Projects
Eastdil Secured Office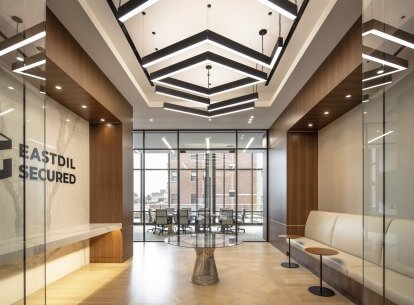 Project Stats
Location

Dallas, Texas

Size

6,700 SF

Market

Expertise
A hospitality experience, inviting collaboration with purpose-driven spaces to host meetings and entertain clients.
Aspiring to foster long-term relationships in Dallas' real estate market, Eastdil Secured moved to Weir's Plaza in the Knox Street District. The office features open workstations, private meeting rooms, intimate lounges, and indoor and outdoor amenity spaces for people to gather and interact. Overlooking the thriving boutique neighborhood, the space embraces the area's teeming city life and stunning views of downtown. 
Elevated finishes and attention to detail enhance the hospitality atmosphere creating a space reflecting the client's brand while encouraging employee and client interaction. Custom herringbone floors and wood veneer paneling complement bright marble walls and dramatic custom light fixtures, setting the tone of elevated hospitality from the moment a client enters the space. Twelve-foot-high ceilings with acoustic baffles provide expansive volumes, while custom glass fronts with pivot doors provide transparency to showcase the lofty, open space. Elsewhere, banquettes and mounted sconces with offset lighting continue to carve out intimate moments within the space.  
In addition to a beautiful space, the design maximizes functionality — optimizing daily individual and team-based work for the global real estate company. Phone booths and focus rooms with state-of-the-art technology, for example, support heads-down work and virtual meetings.
Together, the Eastdil space elevates not only how we work but how it feels to come to work inviting staff and clients to build lasting relationships within the local flourishing real estate community.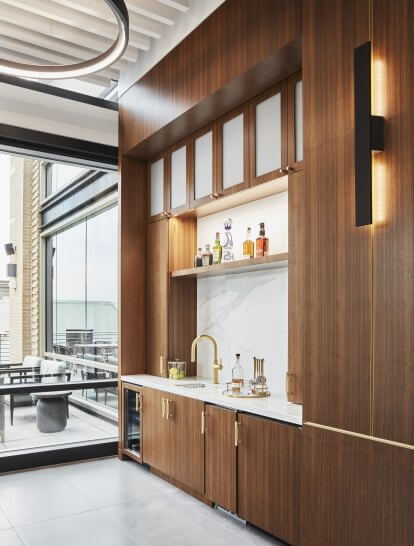 Connection
 A collection of residential-style amenity spaces along the perimeter encourages small-group interaction.
A well-appointed breakroom and wet bar offer a popular amenity for entertaining with connection to an outdoor terrace that serves as an extension for meetings and social gatherings.