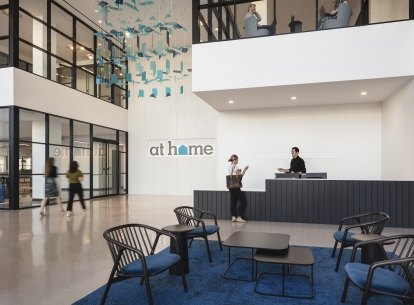 Project Stats
Location

Dallas, Texas

Size

HQ 138,000 SF

DC 80,000 SF

Market

Expertise
Residentially Inspired. Powered for Work.
When the leader in home décor moved its headquarters to Cypress Waters in Dallas, At Home enlisted the integrated Interiors and Commercial Studios to create their new office space, warehouse, and Design Center – a mock retail store to train their employees. As a result of its triple-figure growth, the retailer needed functional, strategic, and collaborative space types to improve connectivity and performance while supporting their new hybrid work policy with a warm, welcoming environment where workers enjoy coming to the office. The space supports mental health and well-being with outdoor covered walkways and floor-to-ceiling glazing to invite natural daylight with views of the park and lake.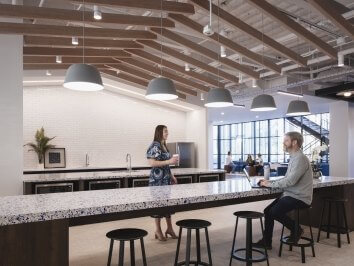 Inspiration, Connection, and Collaboration
The activity-based environment enables employees to choose how and where they work throughout the day. Open sightlines, various types of meeting spaces, and a monumental stair connecting levels one and two inspire impromptu connection and engagement. The design provides infinite possibilities to collaborate and interact in offices with adjacent conference rooms, hotspots to touchdown, and unassigned sit-to-stand workstations throughout the space along with plush seating and cozy nooks for work or leisure. Arched pergolas over long worktables designate hands-on work areas and nurture creativity and collaboration.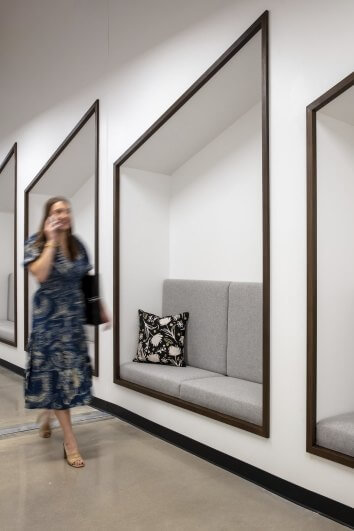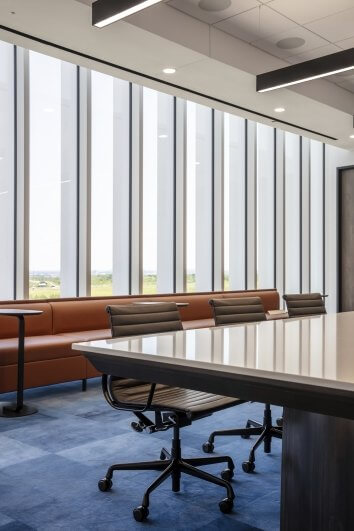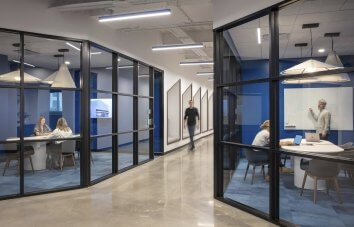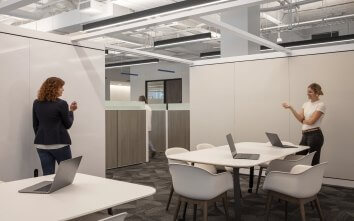 Home Sweet At Home
The purposeful design embraces the company's DIY demographic. To connect the brand story, graphics include a timeline and a map of store locations as well as a mural with positive words and subtle fitness messages in stairwells to "get in your steps." To instill a sense of belonging and ownership, each department decorates its own niche to create a dynamic workplace inviting employees to feel right at home.