News & Insights — Insights
A Day in the Life of a Data Centers Project Specialist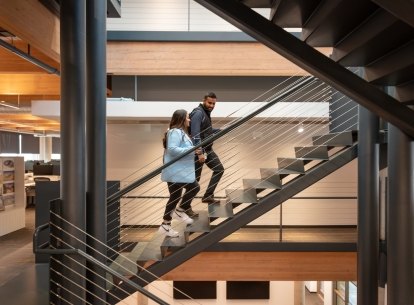 New Beginnings
Meet Meghan Davis, a project specialist on Corgan's data centers team. Inspired by processes and outcomes, Meghan joined the data centers team in the summer of 2022. She knew it was the right fit with a fast pace and new responsibilities to learn and contribute to her team. Upon graduation from Penn State, Meghan decided to move halfway across the country to work on Corgan's data centers team. "It's a new experience starting in the workforce, so I thought why not do everything at once — starting a new job and a big move," said Meghan. "Just go for it!"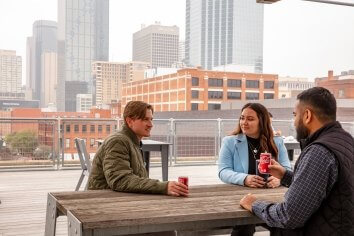 City Views
The weather in Dallas didn't make the decision a hard one, or the office's rooftop views of the skyline.
Bonus points for the data center's fun reputation—a culture marked by the energy of different perspectives. "You can see it in our studio's leadership," she said. "It's stability balanced with the energy and passion of newer graduates like me. The work/life balance is unmatched—whether you have a young family or are excited about exploring a new city in your off hours."
One of the many things Meghan enjoys about working on data center projects is the travel. She remembers seeing a data center for the first time in person and being surprised by the scale. "You see drawings and project renderings every day, but actually going on site put the true size of our projects into perspective." On a recent site visit in Phoenix, Meghan flexed her muscle in team dynamics. Attracted by the early opportunities on her team including coordinating with the engineers, the first-hand, on-the-job experience was both a confidence builder and insightful in growing her leadership on the team.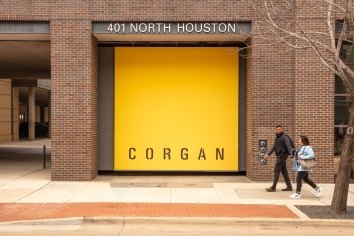 As Meghan comes up on one year with Corgan, she looks forward to more site visits and continued growth on the team. Her best advice for anyone looking to join Corgan's data centers team is to have a good list of questions ready when you're interviewing. "It can be intimidating, but the people here at Corgan made me feel so comfortable," she said. "It's hard feeling like you don't know anything yet, but the data centers team is here to help you learn."