News & Insights — Insights
The Evolution of Career and Technology Education Programs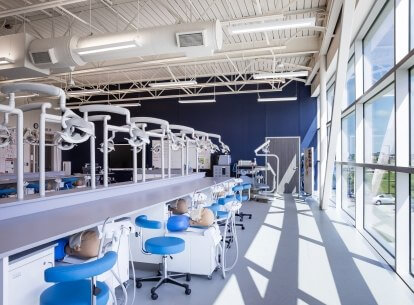 What was once known as a college alternative is quickly evolving into a college pipeline. Career and Technology Education (CTE) programs prepare high school students for the technical demands of the modern workplace and guide them to early interests in career specializations.
Many students attend college without being fully aware of their education and career options. Studies show that around 80 percent of college students will switch majors at one point during their time in college. The integration of CTE programs provides an essential pathway to success for high school students. They offer each student opportunities to personalize their education based on their career interests and unique learning needs. While CTE programs have been around for many years, the trend toward advanced career programs has undoubtedly evolved into a computer-based, technology-rich, state-of-the-art programs. CTE programs provide student-focused spaces that promote teamwork, allow for flexibility and collaboration, and incorporate enriched technology systems. These programs not only provide a direct line to evolving higher education learning modalities and spatial environments, but they set students up for success by opening the door for different career specialties at an early age.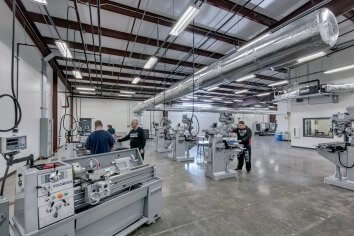 Career and Technology Education — Then to Now 
Over the past several decades, vocational educational programs such as welding, automotive, construction science, and culinary have been integrated into the high school experience to prepare students for work in a skilled craft or trade for immediate employment upon graduation. According to the U.S. Department of Education, technical schools teach the theory and science behind the occupation. In contrast, vocational schools take a more hands-on approach to successfully teaching the skills needed to do the job.
Today, many high school campuses have incorporated CTE programs that define the campus. These programs are fully integrated into the campus and provide more technology-focused programs than previously offered. Today's CTE programs are very different than the century-old vocational education programs. Many programs now focus on areas generally associated with college specialties, such as coding, digital media, engineering, or business.
 Recently, school districts have approached Corgan to discover new, more meaningful ways to incorporate these curriculums into the campus and student body experience. From aquatics and nursing to broadcasting and fabrication labs, these unique learning environments provide the technical and inspirational spaces to discover new talents and explore the world of career and educational opportunities that await each student.
The Aquatics program invites students to get involved in the hands-on training and study of fisheries in both freshwater and saltwater tanks. This program will prepare and inspire students toward career opportunities in marine biology, oceanography, ecology, and other marine-based careers. Recently, Corgan designed an aquatics program to consist of a dedicated aquatic laboratory in between two aquatic classrooms. The laboratory has 44 tanks with tops, lights, filters, heaters, pumps, and filtrations systems. Custom-built aquarium stands, and shelves were installed to support the fish tanks, accessories, and equipment. In addition, two large utility sinks and workbench areas as well as a full-size refrigerator were included in the laboratory. Special exhaust and ventilation were provided as well as concrete polished floors and ceramic tile walls for ease of cleaning.
Fab Labs are popping up in Career and Technology Education buildings in high schools across the nation. The growing popularity of "Fab Labs" is driven by the need in sectors, such as manufacturing, and high-tech workers skilled in specialized technical skills. These specialized labs are equipped with ventilation to run 3-D printers, CNC machines (computer numeric control), laser printers, wet jets, and soldering equipment, in addition to three-phase electrical, sound dampening, and safety.
The Robotics program offers students an introduction to computer science, technology, engineering, and mathematics that will open the doors to career opportunities in aviation and space.  These labs are equipped with state-of-the-art equipment and technology to aid the student in the design and programming necessary to create robots to perform gymnastics and dance maneuvers, use sensors, travel varying distances, and adjust speed.
Case Studies 
Over the years, Corgan has worked with numerous schools on designing CTE spaces of all kinds to better prepare their students for the future. These spaces help students gain practical skills, advanced knowledge of these specializations, and provide a better understanding of the career options out there today.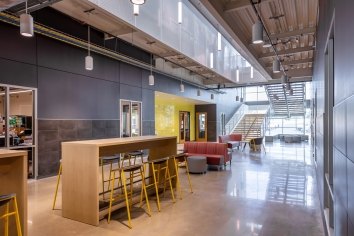 Dripping Springs High School
Corgan designed a new 60,000-square-foot educational space that provides a home for several unique programs offered at the Dripping Springs High School campus, increasing overall student capacity in this growing district. The main addition will showcase CTE-type programs, including engineering, aquatic science, floral design, business, and audio/video production. Complete with a state-of-the-art fabrication lab, production studio, radio broadcast room, business presentation suite, and aquatic science lab. This addition seeks to display the impressive work being done within each curriculum path and engage the student body. Emphasis was placed during design on creating transparencies, which led to interior storefront glazing on most of the corridor walls to allow students to engage with their peers and encourage cross-discipline collaboration.
Dedicated social and educational outdoor spaces will bolster student excitement and provide flexibility on this growing campus. A new 6,000-square-foot agricultural barn will also allow an already booming program to continue to support more students and livestock.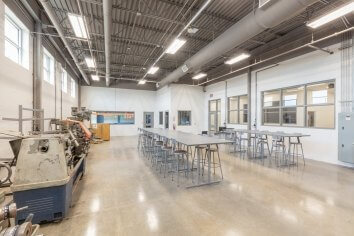 Wichita Falls ISD
Encouraging growth through specialized programs and facilities, the Career Education Center in Wichita Falls focuses on training students on the local air force base's current and future needs in town. Previously, the local population left the area after graduating high school to find work elsewhere. The critical need for this workforce training was identified and became a focus of the curriculum development. The air force base, local political leaders, the economic development corporation, and other local business leaders connected to create a curriculum that supported the local workforce and training needs.
This new 150,000-square-foot facility houses career and technology programs to support aviation mechanics, aviation engine repair, welding and automotive repair and maintenance, medical, business, culinary arts, cosmetology, engineering, and other pathways to support the students' and area's needs. Students gain practical skills and advanced knowledge of these disciplines and leadership, public speaking, and collaboration skills. Students leaving this facility will immediately join the local workforce or continue into secondary education.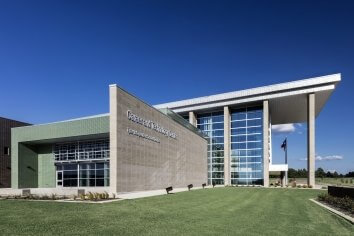 Tyler ISD
Tyler ISD wanted to create exposure to career options to prepare students to enter the workforce or higher education. Students gain hands-on experience at the Career and Technology Education Center to apply what they learn in the classroom. The center offers many innovative programs developed by teachers, students, and business leaders, which prepare students for college and career while also meeting the community's employment needs. The school is designed around the district's six curriculum focus areas: technology, cosmetology, culinary arts, automotive, legal, and healthcare. Students go to the center for four hours of instruction and take core classes at their home campus.