News & Insights — Insights
Sustainability Unleashed: The Evolution of WELL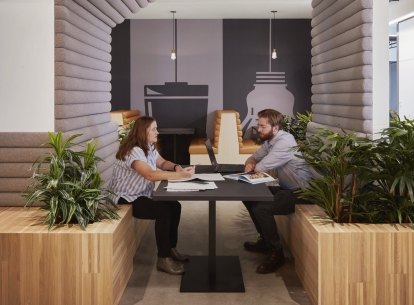 Traditionally when designing a building, we have thought of how that building will impact the environment and surrounding community. However, in a study, the EPA found that concentrations of some pollutants are often two to five times higher than typical outdoor concentrations. With the average person spending around 90% of their time indoors, we need to prioritize designing for the people inside the building.

In the same ways that LEED measures the impact of the physical building on the surrounding environment, WELL provides a scientifically based measurement to evaluate the impact of a building on the people and culture inside. The WELL Building Standard® is a performance-based system for measuring, certifying, and monitoring features of the built environment that impact human health and wellbeing through 10 wellness concepts. These principles offer powerful tools for the built environment to support the ways we live, work, and play, and while the formal metrics are predominately place-based, an exploration of the evolution of WELL offers insight into adaptations for our hybrid life.

Since March of 2020, people have been intrinsically changed to be hyperaware of their safety, health, and wellness. Adapting WELL into our buildings offers us an opportunity to improve our mental health, encourage human connection, refresh our wellness, expand our experiences, and enrich our lives. In the new hybrid-work age we are in, how can design evolve to make places thrive in health and wellness, allowing us all the ability to thrive in health in wellness individually.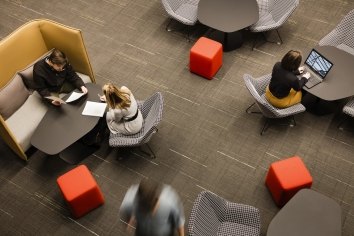 What is WELL?
The WELL Building Standard evaluates over 100 features that fall into one of ten wellness concepts: air, water, nourishment, light, thermal comfort, materials, movement, sound, community, and mind. Demonstrated success in all these features is the foundation of WELL Certification. The WELL Building Standard was intended to create distraction-free, productive, and comfortable indoor environments. This certification was the first of its kind to consider the people in their indoor environment. Grounded in medical research, WELL explores the connection between the buildings where people spend most of their time and health and wellness.

Initially, the WELL conversation evolved from green buildings. More recently, WELL has become a more universal conversation with the potential to bring together diverse teams who did not previously have the chance to collaborate. In other words, WELL is resonating with companies seeking innovative ways to recruit and retain the best talent, improve productivity, and grow satisfaction and engagement. The longer we were away from our employees, the more being together mattered. Videoconferencing is not a replacement for human connection and a shared experience. We want to meet face-to-face, socialize, brainstorm, and connect. In short, we intend to build community, strengthen our relationships, mentor and coach, and reinforce our shared purpose and culture.

By placing people at the heart of design, construction, operations, and development decisions, WELL have the potential to add meaningful value, generate savings in personnel costs, and enhance the human experience, health, and wellbeing. As a result, WELL is changing the future of design—challenging design to create intentional spaces that encourage healthier decisions and support organizational initiatives to promote a culture of wellness for everyone.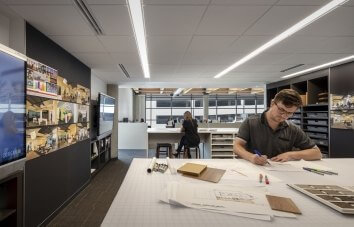 WELL in a Hybrid Environment
With remote capabilities, 1-hour grocery delivery, Amazon prime, restaurant to-go, and more, we don't need to go to places as much. This also translates to how often we go into the office. While WELL offers measurable ways to create human-centric environments that speak to our core needs of health, safety, community, belonging in ways that the virtual platform cannot, there is a great opportunity to utilize WELL in a hybrid environment.

The pandemic has undoubtedly shifted the conversation on health and wellbeing for good. The original focus around the WELL Building Standard was the return on investment within companies and organizations. Now employees are expecting safety, health, and wellbeing as a priority short-term and long-term. Places, more specifically offices, are now being reimagined to support new ways of working. Offices need to be safe, productive, intentional, and enjoyable.

The WELL Building Standard is so much more than the spaces within buildings. There are policies within the concepts that help shape the company culture and dynamics. There will always be a need for office space, but the employee can benefit from the WELL Building Standard as remote and hybrid workers. The WELL Building Standard encourages employees and companies to promote productivity and intention. Whether the occupant or employee is virtual is not necessarily relevant as long as the company supports it.

They are many elements of WELL that have become increasingly popular post-pandemic. Most notably, concepts that directly relate to human safety, such as air quality testing, emergency prepared plans, cleaning products, hand washing, and more. Technology is sprinkled in phone rooms and touch-down spaces for hybrid workers rather than a one-size-fits-all makeover. In addition, specific optional policy features within the concepts have become "required" in some cases due to the pandemic. For instance, policies have been modified to consider more sick leave, air quality monitor displays on a shared employee website, mental health promotion and training courses, and annual satisfaction employee surveys.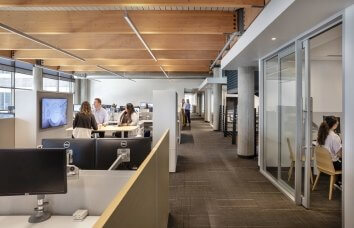 The Future of WELL
If the pandemic taught us anything, it is that our need for safe and healthy places is imperative. We also need to be agile in where, when, and how we work. The WELL Building Standard is a customizable performance-based program, there the program will evolve as time goes. Since the first version launched, WELL has been universal and versatile to reach more people in more places. Specifically, the community is constantly evolving in time. This concept goes beyond buildings as it addresses the importance of healthcare and the promotion of healthy living. It also underscores the importance of design that reflects the purpose of a space. With a customizable scorecard, there will be a monumental stretch to reach more places, as well as third-world countries. The WELL Building Standard will likely become a standard—so why not prioritize designing for wellness now.
Hear more on TheSquare
TheSquare Ep 32 · The Evolution of WELL
We can do nearly anything virtually now—go to the doctor, shop at the grocery store, catch up with friends over a glass of wine, and even take a cooking class in a foreign country. But, it's the way places make us feel that attract us to physical spaces—their power to improve our mental health, encourage human connection, refresh our wellness, expand our experiences, and enrich our life. People were not designed for a life behind the screen, yet as more and more of our life moves to virtual or hybrid settings, the challenge remains for physical places to care for the core things that make us human—face-to-face interactions, movement, access to nature, and more.
In the same ways that LEED measures the impact of the physical building on the surrounding environment, WELL provides a scientifically-based measurement to evaluate the impact of a building on the people and culture inside. On this week's episode of TheSquare, Caroline Compton from Corgan's Interior Studio, who is also a Fitwel Ambassador and WELL Accredited Professional shares how WELL principles may help those at the helm of recruiting and retaining talent, promoting a sense of belonging, and ultimately, building a corporate culture to tap into the power and possibilities of human-centric design.