News & Insights — News
JFK Millennium Partners Marks Financial Close of $4.2 Billion Deal to Develop a New JFK Terminal 6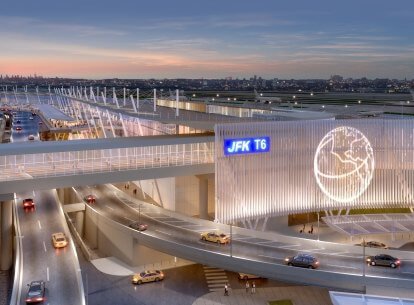 New York, NY: November 17, 2022; JFK Millennium Partners (JMP) announced today that construction of a new international Terminal 6 anchoring JFK International Airport's north side will begin this year, following today's financial close of the $4.2 billion project announced by New York Governor Kathy Hochul.
Selected by the Port Authority of New York and New Jersey for this development, JMP is a private company composed of Vantage Airport Group, an industry-leading investor, developer, and manager of award-winning global airport projects, including LaGuardia Terminal B; American Triple I (ATI), a certified minority-owned investor, owner, developer, and manager of infrastructure assets; leading New York real estate operating company RXR; and JetBlue, New York's Hometown Airline®. JMP will develop the new international terminal in two phases, with the first gates opening in 2026 and project completion expected in 2028.
Port Authority Executive Director Rick Cotton said, "The financial close on a new Terminal 6 allows us to move forward with the final piece of our plan to transform JFK International Airport into one of the world's great global gateways. The $4.2 billion private investment in Terminal 6 by JFK Millennium Partners is a vote of confidence in our vision for a new JFK and in the future of our region. We want to thank New York Governor Kathy Hochul, U.S. Senate Majority Leader Chuck Schumer, Deputy Secretary Polly Trottenberg of the U.S. Department of Transportation, U.S. Congressman Gregory Meeks, Queens Borough President Donovan Richards, and the leadership and staff of the Federal Aviation Administration in Washington, in Region 2, and at JFK International Airport. Without their support, getting this important project to financial close would not have been possible."
George Casey, Board Chair, JFK Millennium Partners and Chair & CEO, Vantage Airport Group, said, "We're honored to join our partners at the Port Authority of New York and New Jersey in today's announcement. We've assembled a first-class team, led by Vantage and backed by Corsair, our shareholder and the project's principal financial sponsor, to deliver a new international Terminal 6 that will transform the guest experience and contribute to the overarching transformation of JFK International Airport, maximize opportunities for community involvement and employment, as well as demonstrate the power of strong partnerships to deliver extraordinary airport infrastructure for our communities."
JFK Millennium Partners CEO, Helena Williams, said, "We are delighted to mark today's financial close milestone of the $4.2 billion dollar project to create a new, world-class Terminal 6 anchoring the north side of JFK. Working with our partners at the Port Authority of New York and New Jersey, Vantage, ATI, RXR, and JetBlue, we are ready to bring an unprecedented level of economic activity to southeast Queens with construction jobs and opportunities for minority- and women-owned businesses as we build a state-of-the-art terminal at one of the nation's most important international gateway airports."
David J. Cibrian, CEO, ATI, said, "ATI is honored to join with our consortium partners of Vantage, RXR, and JetBlue on today's announcement, and we are proud to have played our part as an infrastructure fund manager and equity owner in the development and financing of the new international Terminal 6.  This project brings a $4.2 billion public private partnership to the redevelopment of JFK International Airport as well as to the broader New York region. ATI is deeply appreciative of the Port Authority of New York and New Jersey for their visionary leadership in ensuring there are opportunities for MWBE firms at all levels of this project. We likewise thank the local communities surrounding JFK for their partnership and continued support as JMP continues to bring economic development and opportunity to Southeast Queens."
Scott Rechler, Chairman & CEO, RXR, said, "We can no longer use the playbooks of the past to address the region's most critical infrastructure challenges. There is no better way to leverage public resources and unlock private sector investment and innovation than through public-private partnerships. After years of planning and navigating a global pandemic, we're proud to advance the Port Authority's latest public-private partnership with a new world-class air terminal at JFK International Airport."
Robin Hayes, Chief Executive Officer, JetBlue, said, "New York is in JetBlue's DNA and inspires everything we do. Today's financial close allows us to help introduce another world-class terminal in our home of the Big Apple. We are thrilled to work alongside the Port Authority of New York and New Jersey and with JFK Millennium Partners to modernize JFK and bring our unique brand and culture to even more New Yorkers in a brand-new terminal. Thanks to our Northeast Alliance with American Airlines, JetBlue's presence in New York has never been greater and the new Terminal 6 project will only accelerate our growth in the years to come."
Approved in August 2021 by the Port Authority Board of Commissioners, the new Terminal 6 development will feature a 1.2 million square foot terminal, 10 new gates – including nine wide-body gates – and bright and airy check-in halls and arrival spaces designed to enhance the customer experience. Customers will enjoy more than 100,000 square feet of dining and shopping, airline lounges, and recreational spaces. Custom art works and the latest advances in sustainability and security will also figure prominently in the new terminal complex.
The redevelopment will include enhanced airside aircraft circulation, to reduce congestion and delays, as well as critical infrastructure improvements of related roadways, to optimize airport traffic flow and maximize connectivity across the airport. The new Terminal 6 will also connect seamlessly to JetBlue's existing JFK Terminal 5.
Lufthansa Group
Lufthansa Group, which has been operating in the New York region for more than six decades, will also make its home in the new Terminal 6, operating international flights out of several gates and creating a world-class lounge experience for guests travelling on its airlines, which include Lufthansa, SWISS, Austrian Airlines, and Brussels Airlines.
The development of Terminal 6 is expected to create more than 4,000 jobs and direct wages of $1.9 billion. JMP is committed to meeting and exceeding the Port Authority's goal of 30 percent participation by minority-and women-owned businesses and creating opportunities to foster and grow local businesses through the development. The Terminal 6 project is part of the Port Authority's overarching, $18 billion transformation of JFK under the leadership of Governor Hochul.
Today's announcement follows a busy summer of milestones in the transformation of the region's airports. In June, Governor Hochul held a ground-breaking event for the New Terminal One, the $9.5 billion terminal redevelopment project on JFK's south side. This was followed by a ribbon-cutting event to open Delta Airlines' new Terminal C at LaGuardia Airport, and the substantial completion of LaGuardia's new Terminal B, one of the largest P3 projects in US transportation history, delivered on time and on budget by a consortium also led by Vantage Airport Group.
Morgan Stanley & Co. LLC served as financial advisor to JMP on the transaction.
---
Press Release authored and published by Vantage Airport Group on November 17, 2022. Read it here.