News & Insights — Insights
Conceptual Design Competition: Deep-Rooted Ellum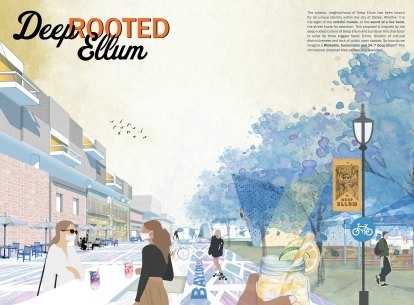 For more than 100 years, Deep Ellum has historically been home to Dallasites who don't 'fit in' elsewhere in the city. Formerly home to African American blues musicians and an eastern European Jewish merchant community, it regenerated again in the 1980s to become a community of live music venues, bars, restaurants, apartments, and raves. Since then, while it has continued to be a spot for live music, it has evolved into a community with painters, artisans, galleries, entrepreneurs, and technology. Established in 1873, Deep Ellum has grown to become a hub for the arts and culture in the Dallas area.

With the interest of Deep Ellum booming, opportunities for development in the area are endless. In this year's annual design competition, Corgan employees were encouraged to contribute their skills to design meaningful solutions to generate an appropriate sense of community within the east Dallas area, connecting the corporate-heavy downtown to the culture-heavy area of Deep Ellum.

Corgan's Dallas office hosted the competition with an open entry for all Corgan employees worldwide— including all architects, interior designers, and non-designers alike. Tasked to create concepts and appropriate architectural solutions for the one-block area of southeast Deep Ellum, submissions were expected to visualize the entire block with conceptual hardscaping, landscaping, and basic structure footprints. Entrants were encouraged to think creatively beyond the site's constraints while keeping surrounding streets in place, having a maximum height of six stories above ground, and addressing parking needs.

With an emphasis on post-COVID best practices, thoughtful user experience, and emerging technologies, Corgan employees conceptualized a new east Dallas community. From promoting the history of the area and encouraging the local culture and arts to emphasizing the walkability of Deep Ellum— check out the 2020 Design Competition's winning concept: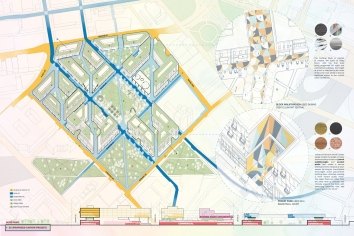 Deep-Rooted Ellum: Walkable, Sustainable, 24/7
By Unmesh Kelkar

The eclectic neighborhood of Deep Ellum has been known for its unique identity within the city of Dallas—whether it is the sight of the colorful murals on walls or the sound of a live band, the street hoots for attention. This winning conceptual design called "Deep-Rooted Ellum" is inspired by Deep Ellum's innate culture and builds on this character to solve its two biggest fears: the threat of being taken over by high rise corporate development and unsafe walking conditions. The three main objectives of the concept are creating a 24-hour neighborhood, enhancing walkability, and ensuring the area's ecological and economic sustainability.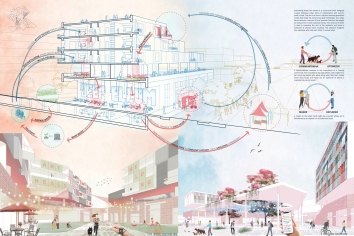 The idea is to weave the neighborhood's urban fabric into the given site by connecting the existing inner streets to Main Street while defining a Barcelona-style superblock that confines vehicular movement to its periphery and creates a bike and pedestrian-friendly zone inside. The building block is created to respect the scale of Deep Ellum, with the first level being programmed for retail and commercial purposes, the height of which is matched to the width of the inner street to ensure sightlines similar to the current urban conditions.

Influenced by Jane Jacob's urban design tenets, the length of these blocks are split by introducing block walkthroughs and pocket parks that create a secure street grid and a network of open spaces. By doing so, the design encourages active ground-level building uses, ultimately creating a more vibrant public realm. The upper floors are offset from the lower level to maintain the block's intimate scale with protruding balconies that add more "Eyes on the Street." Interceding these two levels is a communal level designed to grow extensive urban farms in collaboration with non-for-profit co-ops. The aim is to form a cyclical revenue generation model that helps the community grow holistically. The urban farms become a local produce source that can be bought by restaurants or sold in grocery stores. The revenue is used to subsidize the residents' rent and forms a collective of shared equity housing.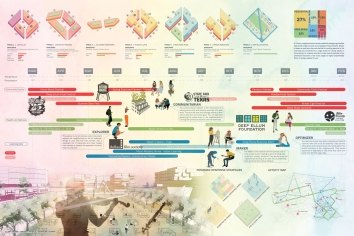 The concept imagines four personas that help each other in unique ways. A communitarian who believes in the importance of a helping community and is excited to live with others might be a part-time dog walker that makes some extra bucks by helping an optimizer attend a meeting she cannot avoid. On the other hand, a maker might be a painter whose art is discovered by an explorer on an adventure walk. A 24-hour neighborhood is hence created by designing a flexible space with rigorous year-round programming of events.

Whether it be a space used as a daycare facility for working parents in the morning that is converted to a yoga studio for young adults in the evening or space used as a music learning studio in the afternoon becoming a live music stage at night— Deep-Rooted Ellum is always awake for you.

 

 
Interested in learning more about our annual conceptual design competition or the other design concepts, contact Alexandra Ayres at 

Alexandra.Ayres

[at]

corgan.com

(Alexandra[dot]Ayres[at]corgan[dot]com)

.
Awards & Recognition
AIA Dallas Unbuilt Award