News & Insights — Insights
Spaceports: Space Medicine and Beyond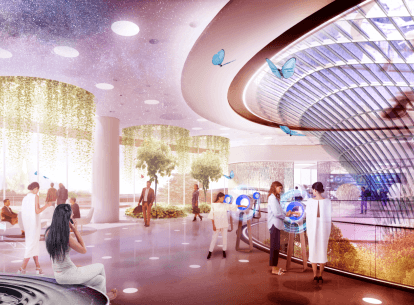 Let's imagine a completely different kind of healthcare network. What if those in need of organ transplants could connect to donors on a different continent? What if the microgravity of space could open up the possibility of 3D-printed organs? As we continue to test the limits of the next frontier, we have the potential to not only discover new possibilities in the future of travel but also rewrite the framework for our healthcare systems.
Paving the way in novel aviation typologies, Corgan has reimagined air travel for passengers making small local jumps in UberAir's flying taxies and revolutionized commercial air travel for those traveling through global airport hubs. Teaming up with Hugo, the firm's research and development arm, the aviation practice is now giving shape to the Spaceport with an in-depth user experience analysis, programmatic masterplan composition, market viability study, and adoption plan to understand the buildings, services, and infrastructure network needed to support point-to-point rocket travel.
While the Spaceport holds the promise of ushering in a new era of travel and exploration, it also offers the potential for new platforms for clinical research and medical developments. For instance, the space station's microgravity environment allows for 3D-printed organ structures to maintain their shape naturally and strengthen to become viable tissues once back in Earth's gravity. The delight and novelty of low orbit travel may offer the business traveler immediate access to a global network of clients, but for medicine, the advantages of these connections, like microgravity environments and destination dispatch space stations, revolutionize how we think of health, wellness, and ultimately our lives.
A global medical ecosystem of international specialties combined with the possibility of space travel makes for a different world of innovation in healthcare while also hinging the science of medicine to provide training and wellness support for low-orbit travelers. The design and planning of spaceports leans on the research of medicine as it must consider the potential impacts on our health and well-being. As a collaborative hub for specialized medical care, space medicine, access to more options for treatment and providers, and technological advancements, the spaceport is more than a launchpad for rocketships—it may also be the frontier of new medicine.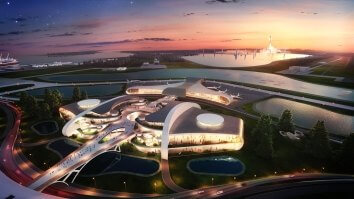 SPACEPORT MEDICAL FACILITY
A successful spaceport requires much more than a launchpad. Tapping into their experience in creating airports that serve as global hubs and microcities, Corgan's aviation architects have started to imagine the various functions and spaces needed to support this new typology. Inspired by airport facilities that draw users for work, travel, comfort, and amenities, and even spectacle, the spaceport campus will also need to include facilities for maintenance, healthcare, education, training, and business commerce in addition to concrete launch pads and landing strips.
For astronauts and space travelers, good health is a prerequisite. The extreme, and at times demanding, conditions of space require holistic care to prepare for trips and maintain physical and mental wellness before and after trips. Grouping facilities for healthcare and education together in a Spaceport Medical Facility provides a continuum of care for those traveling to space while also caring for those that are residents of this microcity and the surrounding community.
Personalized health screening and tests for travel candidates will require simulation and training facilities to prepare them for their journey — not unlike those used by professional flight pilots and astronauts. Outfitted with human centrifuge and altitude chambers, these facilities will also need to be integrated with medical services to provide the access and communication that are needed in evaluating physical capacity, assessing general fitness, and demonstrating one's physiological emergency response.
STEP INSIDE
The Spaceport Medical Facility will provide travelers' safety education during pre-launch and post-travel, emphasize preparedness, and facilitate recovery. With a potential global, diverse set of passengers, experiences within the Spaceport will need to be highly individualized to meet the specific needs. A critical step and perhaps even a regular part of the passenger journey will require health services and precautions made available at the Spaceport Medical Facility. In addition to health screenings, the facility will respond to medical emergencies on campus and provides specialty services for travelers and the offshoot community. Beyond immediate neighbors, the Spaceport Medical Facility can connect global communities to experienced care and research with hubs for cancer, Osteoporosis, or Alzheimer's treatment.
The unique environments of microgravity make possible new studies for these and other diseases. From rapid aging to growing protein crystals, the spaceport welcomes a new era of healthcare that has the potential to revolutionize medical treatment and care delivery. Lifting the limitations of proximity, the new healthcare network offers a culture for expanded wellness and solutions that can change how we live every day.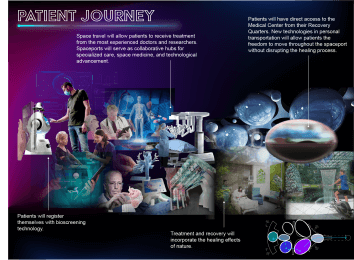 LOOKING AHEAD
As the spaceport grows in popularity among civilian passengers, we can expect a lifestyle of space travel to give birth to a new set of priorities while also accelerating trends that have defined modern aerial travel. From more personalization to on-demand convenience, passenger expectations will continue to shape a future of travel that is increasingly more human and more connected.
As we look toward a more connected world, the spaceport also provides a new kind of framework for knitting together a collective set of resources, knowledge, and healthcare professionals to transcend borders and give shape to a new healthcare paradigm. More than a new kind of travel and exploration, the spaceport opens up a new frontier for technology, research, and medicine that promises to be light years beyond what our earth may be able to imagine today.