News & Insights — Insights
Virtual Design Sprint: What Does Agility Mean to You?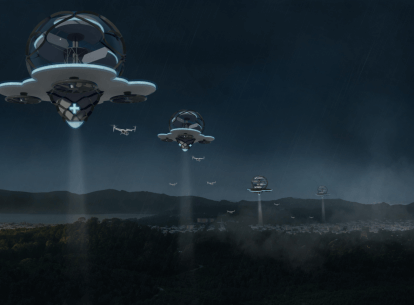 In the midst of this year's unconventional work and education models, Corgan's virtual internship program helped preserve a meaningful experience for the summer class of interns and the future talent pipeline for the architecture and design industry. While the traditional program tasked the interns with solving real-world problems on billable projects, this year's class pressed further into the fundamentals of human-centric design and interrogated the core of compelling, relevant architecture that will shape our world in a 3-week design sprint.
The interns were split into ten groups of four, completing a unique design sprint with Hugo, Corgan's research and development arm, exploring and interpreting the idea of 'agility.' They were tasked with re-examining some of our traditional architectural typologies, understanding the shifts in human behavior that are likely to occur in the next decade, and exploring the different emerging technologies that will make possible that evolution. Corgan staff and global experts provided direction on topics ranging from architecture and technology to marine biology and neuromodulation. Through rapid iteration, the conceptual designs studied various configurations to offer communities agile, sustainable design solutions for safer, healthier spaces that respond to and navigate the direct effects to each of Corgan's market sectors.
Design Prompt: Agility. What does agility mean to you? How might agile architectural solutions shape the built environment? How might we respond in an agile manner to both shifts in human behavior and emerging technologies?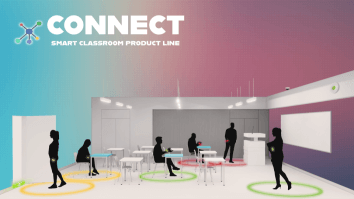 1ST PLACE: CONNECT
By: Ryan Krigbaum, Trevor Hughes, Heshan Li, and Tai Kolisnyk
Today's society and the environment is ever-changing. Every day presents a new challenge; therefore, our architecture requires great agility. Instead of designing the buildings of today, we must think about the buildings of tomorrow, and how they can affect the future of the profession. One of the most pressing issues facing society is the ongoing COVID-19 pandemic. Cases often go undiagnosed as people can spread the disease without showing any symptoms, causing the rapid spread of this invisible disease to continue increasing. What if there was a way to visualize the exposure and spread of disease in real time? The Connect Classroom product line can do just that.
This series of interconnected smart devices communicate with each other to identify exposure, track spread, and self-sanitize affected areas. These products adapt to different needs, changing environments, and improved technology, without significant overhauls to existing and future buildings. The idea behind these products is to give students and faculty greater peace of mind when returning to their classroom settings and public gathering areas this fall. Some of the products include desks, doors, air purifiers, UV cleaning lights, and occupancy sensors that communicate with each other. Each device ties back to a personal wearable bracelet, enabling notifications to be sent immediately to the user regarding changing environmental conditions.
The Connect Desk has a color-changing surface that shows if a desk is clean, dirty, or currently in use, allowing students entering the classroom to see which desks have been cleaned. When a desk is clean, it shows no warning display, but when a desk has been exposed, it shows a red surface. If a student wants to sit at a red desk, there is a small cleaning mechanism located under the front side of the desk that rolls over the surface, applying disinfectant with each pass. After a couple of passes over the surface, the red display turns off, and the desk returns to normal.
Connect Products 
The Connect Air Quality Purifier cleans the air in the space and is also equipped with a light to show occupants the current indoor air quality. This smart system can detect air quality patterns based on previous classes in the space and turn them on before the start of classes. It then syncs with student and faculty schedules to alert them of the air quality in the rooms they use before entering.
The Connect Occupancy Sensor counts the number of individuals inside a space. Once a specific capacity is reached, it turns on the Connect Air Quality Purifier and can also send notifications to the Connect Bracelet. These notifications would tell students and faculty the target number of people in the room, and how many people are currently in the room as they enter the space. During the 15-minute break in-between classes, the Connect Occupancy Sensor activates the UV cleaning lights if no one is currently in the room.
The Connect Door Light attaches at the base of any door and shines a light across the doorway to signal the current room conditions. If the light on the floor is green, then the room is under capacity. If the light at the base of the door is red, it means the room is at target capacity, or the air quality has not returned to a safe status. The next user will then receive a notification via their Connect Bracelet to let them know the current room statistics.
The Connect Bracelet is a wearable device that ties into each of the smart systems. This device acts as a student ID card, giving users access to buildings on campus and make touchless purchases on campus. This bracelet monitors the user's vitals while it is being worn, giving it the capability to predict rising temperatures, sweatiness, or other signs the user may be falling ill. The bracelet also notifies the user if they have come in contact with an infected surface, identifies spaces over target capacity, monitors handwashing routines, and sends reminders to do so. It has a Social Distancing Mode, giving the wearer the ability to set a target distance to maintain. In the event another person enters that space, the bracelet sends haptic feedback to the wearer, notifying them that someone is too close. Social Distancing Mode can also communicate with Connect Flooring, which would activate LED lights to mark these distances on the floor to notify others of the user's space requirements.
The visualization of what would otherwise be an invisible killer is a crucial component of stopping the disease. This new technology could be crucial in putting an end to the COVID-19 pandemic, and preventing any future outbreaks from reaching this unprecedented level.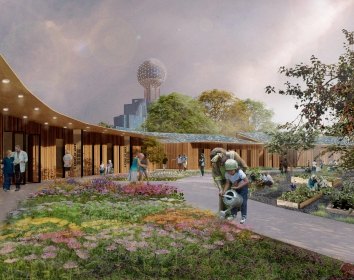 2ND PLACE: H.A.R.V.E.S.T.
By: Jonathon Nurko, Julia Vasilyev, Kelsey McKnight, Kelsey Benitez
Our project, H.A.R.V.E.S.T., is a community that provides housing and mental health treatment through transitional programs to help individuals who may otherwise be trapped in a vicious cycle of homelessness, substance abuse, and financial insecurity. It is an intervention, a chance to provide a long-lasting positive impact on the unfortunate individuals who suffer from homelessness and mental illness, as well as a unique way to educate and inform surrounding communities, altering societal perceptions. H.A.R.V.E.S.T. is a holistic approach based on the premise of rehabilitation architecture, providing occupants with a place to call home. It is designed to help the homeless population regain their sense of purpose and be successful in their way. Rehabilitation architecture focuses on nourishing and supporting the users' mental wellness through psychological and physical support.
This community offers contemplative meditation, treatment through immersive environments, and art, music, and gardening therapy. The six-step program that the project is designed around consists of rescuing, community, learning, nurturing, stabilizing, and restoring one's mental health to help them succeed in their lives. Additionally, H.A.R.V.E.S.T. offers occupational training, allowing occupants to expand their skills for a promising future of employment. H.A.R.V.E.S.T. is a self-sustaining community that relies on solar and wind power and is equipped with an innovative aqua web system for rainwater collection. Due to its adaptability, multi-purpose quality, and self-sustainability, the community can sell the energy gained on-site to the city's electrical grid line for revenue in support of the therapeutic programs the project offers.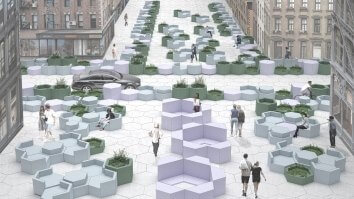 3RD PLACE: SHIFTING STREETS
By: Tuyen Le, Johnathan Kircus, Jaya Tolefree, Chloe Thomasian
Our project, Shifting Streets, speculates on established urban typologies, such as parks and plazas, in vacant streets and challenges the notion that these spaces must remain static. We aim to enable our public streets to become human-centered rather than vehicular-centered spaces, tailoring activities to the individual, while remaining flexible to change at a moment's notice. Shifting Streets focuses on developing a better understanding of the pedestrian use of the urban environment. This will be done by remaining flexible and responding to data gathered from the site in real time to optimize exposure for retail opportunities, create new green spaces, and ultimately improve pedestrian and automobile paths based on times of the day. By blocking off connecting streets during times of low automobile traffic, we create a destination space that is dynamically adapting to pedestrians' needs, providing commuters, business professionals, retail, and families with a self-organizing pedestrian plaza complete with moveable seating, meeting areas, green space, and advertisement space.

We achieve this through three "modules" working together to adapt to the changing streets and intersections of cities. Driven by data gathered from sensors and traffic patterns, each block supports different aspects of urban life, such as public seating, vegetation, creating and storing energy, and technology. The hexagonal grid is easily adapted to the site and configured with modules able to shift, rise, and lower through an underground grid system. Each configuration is generated based on the number of automobiles and people active during different times. For example, in the morning during high traffic times, modules will be set back to the edge of the street to allow cars to pass, and so on, throughout the day. Certain intersections in New York City are in dire need of this intervention, as they exhibit high injury and mortality rates annually. Our urban intervention seeks to slow down traffic as cars pass through our site at certain times of the day.
---
REFERENCES
Ford, Alan. 6 cross-industry applications of industrial IoT in practice. Accessed July 23, 2020. https://www.sageautomation.com/blog/6-cross-industry-applications-of-industrial-iot-in-practice.
Fuller, E. (2019, January 23). Homeless Mentally Ill Facts and Figures. Retrieved July 24, 2020, from https://mentalillnesspolicy.org/consequences/homeless-mentally-ill.html.
Ellsmoor, James. "Smart Cities: The Future Of Urban Development." Forbes. Forbes Magazine, May 19, 2019. https://www.forbes.com/sites/jamesellsmoor/2019/05/19/smart-cities-the-future-of-urban-development/
"Home." tooshlights, May 4, 2020. https://tooshlights.com/.
"Homepage." Density, July 14, 2020. https://www.density.io/?utm_source=aw.
Kuhn, Anthony. "South Korea's Tracking Of COVID-19 Patients Raises Privacy Concerns." NPR.
NPR, May 2, 2020. https://www.npr.org/2020/05/02/849535944/south-koreas-tracking-of-covid-19-patients-raises-privacy-concerns
Martin, Ashby. Smart cities: moving from reactive to predictive resource management. Accessed July 23, 2020. https://www.sageautomation.com/blog/smart-cities-moving-from-reactive-to-predictive-resource-management
Sangchul Park, JSD. "Privacy Controversies Around Information Technology–Based COVID-19 Tracing in South Korea." JAMA. American Medical Association, June 2, 2020. https://jamanetwork.com/journals/jama/fullarticle/2765252.
"Urban Mobility in the Post-Diesel Era." Accessed July 23, 2020. https://atlas.dc.siemens.com/latestthinking/articles/urban-mobility-in-the-post-diesel-era/.
 Jason Roberts. Better Blocks [E-mail interview]. (n.d.). Ritchie, H., & Roser, M. (2018, June 13). Urbanization. Retrieved July 22, 2020, from https://ourworldindata.org/urbanization
1. (2017, June 28). Urban green spaces: A brief for action (2017). Retrieved July 22, 2020, from https://www.euro.who.int/__data/assets/pdf_file/0010/342289/Urban-Green-Spaces_EN_WHO_web3.pdf
What is IoT architecture? (2019, July 16). Retrieved July 24, 2020, from https://www.avsystem.com/blog/what-is-iot-architecture/
Shapiro, A. (2012, December 06). Why Some Homeless Choose The Streets Over Shelters. Retrieved July 24, 2020, from https://www.npr.org/2012/12/06/166666265/why-some-homeless-choose-the-streets-over-shelters
Tarr, P. (2020, February 03). Homelessness and Mental Illness: A Challenge to Our Society. Retrieved July 24, 2020, from https://www.bbrfoundation.org/blog/homelessness-and-mental-illness-challenge-our-society
Le, Tuyen, Johnathan Kircus, and Jaya Tolefree. An Interview with Brent Burmaster. Other. Accessed July 21, 2020. Hugo Design Sprint Primary Research.