News & Insights — News
Corgan's Lindsay Wilson Leads the Firm Where She Got Her Start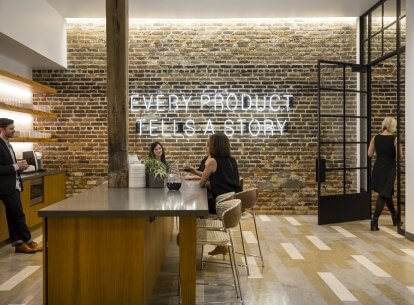 As president of Corgan, Lindsay Wilson helps lead the firm in winning new business, developing client relationships and mentoring the next generation.
It's been said that only inanimate objects travel in straight, predictable lines. The ability to move freely and choose our own, often winding path is a luxury afforded to the living—and to those who are willing to follow their passion. It's only in hindsight the connecting dots come into focus, revealing a pattern that seems to have been there all along.
For Lindsay Wilson, the journey began and continues in the place where it all started: Corgan. Hired almost immediately after graduating with a Bachelor of Interior Design degree from the University of Arkansas, Wilson accepted a job with the global architecture and design firm without even flying out to visit their Dallas office, "which I don't think anybody does anymore; I was just happy to have a job," she quips. Working as part of a large design team, however, Wilson says she was unsure of how to make her mark. So, after a short stint at Corgan, she left for a smaller firm in the area, a move that would prove to be pivotal in her career development.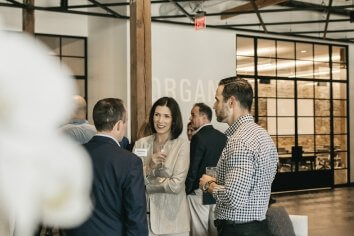 "I was at Corgan for about two and a half years, and then I decided to move on to a smaller firm at that time and worked at BOKA Powell," she recalls. "That's really where I learned about business development and client relationships, and how to win new business and keep existing clients, so that was a real training ground. It really set the rest of my career in motion because I had some great mentors around business development and client relationships in that next firm," she says. After a few short stops at other design practices, Wilson eventually made her way back to Corgan a little more than 10 years ago.
"I felt compelled to move around a little bit until I found that right mix of a firm that believed that interiors could really be a standalone, revenue-generating business and a firm where there was a place that I could not only grow into a leadership role to have a career, but also a place that embraced work-life balance as a value, " she explains. As it turns out, Corgan was that place. In 2018, Wilson was named President at Corgan—the first interior designer in the firm's more than 80-year history to hold that position—entrusted with a responsibility for firm brand and culture. She is also the Interiors Sector Leader at the firm today.
Leading People & Projects
Wilson categorizes her past accomplishments throughout her more than 20-year vocation into two "buckets": mentoring and winning new business. She takes great pride in nurturing talent and helping to develop professionals under her leadership, satisfied with even the smallest influence on their careers. "Seeing people grow and take on their own leadership roles and lead really large projects, I completely underestimated how gratifying that would be. It still kind of takes me by surprise," she admits. Wilson also finds the partnership aspect of developing interiors studios in other cities around the country both a challenging and rewarding part of her job over the past 10 years as Corgan Interiors has grown.
Part of the mentoring process is sharing the wisdom she's garnered from experience, both the successes and failures. Wilson relates a particularly difficult experience from early on in her in career when—for the first and only time—a client requested she not continue working on a project due to some disagreements between them. As she sat in her manager's office defending her decisions and how the client failed to understand them, she distinctly recalls her manager telling her: "The first problem is, it's not about you."
Wilson never forgot the lesson, which fueled her to become a better designer. "When a client didn't want to accept my design as I had conceived it, I would take that really personally instead of looking at things from a business perspective and [asking], 'What were the goals of their business, not what were my design goals?'" she says. "So, that had a big influence on me, and I think from there that focus on customer service moving forward is really part of what led me back to Corgan, a firm that has customer service at its core."
Serving a client presupposes you've already won their business, of course, and Wilson admits she finds satisfaction in competing for it. "I still love the chase and the win," she admits. "I love it when a project opportunity presents itself, and I so believe that we have the right team for that project."
Case in point: when Toyota announced it was relocating its North American headquarters to Plano, Texas, Wilson knew it was a once-in-a-lifetime opportunity for the firm. The auto manufacturer was planning to bring more than 6,000 jobs to the area and build a 2 million-square-foot LEED Platinum facility, and she believed wholeheartedly that Corgan was the right firm for the job, which she ultimately helped to land.
"I take a lot of pride in being able to tell a story [during a client presentation] of why our team and our expertise can help that client solve their design problem or their culture problem or whatever's driving them to consider a new workplace," she explains. "So, that alignment of opportunity and team is something that I get excited about."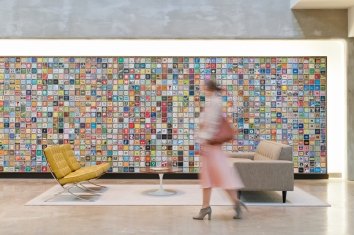 Another watershed project Wilson remembers is the headquarters relocation and reconsolidation for fashion brand Fossil that moved to the Dallas area in 2010. The client leased an existing, Brutalist building that once housed a call center for Blue Cross Blue Shield. Corgan was challenged to convert the non-descript space into an inspiring workplace that would attract designers of watches and leather goods to Texas, rather than New York and other major markets. Wilson recalls touring the project during which the brand manager asked her if Corgan would be able to pull off their vision. Through a collaborative effort with the client, they succeeded, of course, and effectively established Corgan as a firm that was more than capable of handling large-scale projects.
"I had recently come back to Corgan, and we were going to build this bigger team that could really go after the largest projects that were out there," Wilson recalls. "Fossil was 500,000 square feet, and I think that was the time when we all realized, 'We can do this. We're going to do this.'" 
Walking the Talk
Not content to rest on their laurels, Wilson and the Corgan team continue to push themselves by adopting and applying innovative design approaches. For instance, when the firm was approached by healthcare medical supplier, Stryker, to design its new 250,000-square-foot-facility in Flower Mound, Texas to the WELL Building Standard, Corgan was up for the challenge. "Stryker, a project of ours which was actually the first WELL-certified project in Texas, is really where we learned about [the rating system]. The client brought it to us," Wilson recalls. While Corgan was already familiar with the concepts behind WELL, it was the firm's first project to pursue certification under the emerging standard.
At the time the Stryker project was completed and prior to its earning WELL certification in 2017, Wilson says Corgan embarked on a journey to renovate and expand its Dallas headquarters—a process it had undertaken a decade earlier when LEED was the major focus of design and construction practices. "Over 10 years before, we had done the same thing with LEED and said, 'If we're going to talk about LEED and our clients are going to do LEED, then we need to do it," she recalls. "We need to put our money where our mouth is and go through this on our own building, figure out what are the additional costs, etc. So, our building is LEED Gold and now, keeping the LEED certification but adding on WELL, is something that we're pursuing," she says. Wilson is quick to point out, however, that the decision to pursue WELL certification is not only to benefit the firm or its clients in terms of experience, but also to create a great place to work for its employees.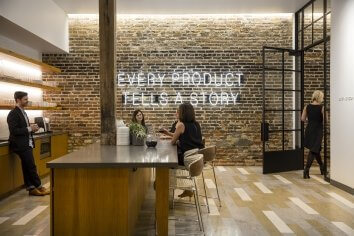 The 80,000-square-foot in-house project consists of a renovation of the existing interiors as well as an expansion of the overall building, both of which will be designed to WELL protocols. Wilson notes that because the existing building is already LEED-certified, the process of designing for WELL prerequisites has been smooth.  "Our experience so far as far as the crosswalk between LEED and WELL has been really positive," she says. "If you're either going into a building that's already LEED or you're wanting to pursue both LEED and WELL, they did a really nice job in kind of laying out where they cross over and support each other, especially in the prerequisite section."
Wilson suggests that the WELL Building Standard is on the cusp of becoming mainstream, following a similar trajectory to the now-ubiquitous LEED rating system. With more requests for WELL appearing in RFPs, Wilson says "I feel like it's about to be at the tipping point. The other way you can tell we're on the cusp is because the marketplace is getting a little more crowded with it too," she adds. Just as rating systems like Green Globes and the Living Building Challenge emerged under LEED's shadow, programs like Fitwell have already emerged as an alternate to WELL—and various product certifications are sure to follow.
Going Back to the Beginning
Growing up in a mid-sized town in Arkansas, Wilson says she never fully appreciated the influence her home life had on her in terms of leading her into a career in interior design until later in life. Looking back, the dots were there; she just didn't immediately see the connection.
"As I've gotten older, I've kind of appreciated it more that my mom in particular always really held design in high value," she recollects. "It was kind of unheard of in our town, but my mom actually had interior designers from Little Rock come and help her in the house." Her mother's Christmas lists also frequently contained items such as new rugs, wallpaper, or redoing a bedroom or the living room, she says. "The fact that she really valued creating a beautiful home and the power of design, and that I grew up in a home like that […] I think maybe that had more of an impression than I gave it credit for."
Likewise, Wilson's father played a key role in her choosing interior design as a career path, although in a much different manner. After enrolling in college and taking business classes, Wilson announced to him her decision to declare Art History as her major. His response was: "No, you're not. Try again. Call me back when you choose something that will make you more employable."
Exploring her options, Wilson began investigating other majors in the arts and literally wandered into the architecture and interior design school at the University. She met the director of the program who talked about interior design as the marriage between business and art. "I was pretty hooked," Wilson says, thinking, "OK, these are things that are both things I'm interested in. Let me give it a try." The next semester, she took an introduction to interior design class and has never looked back.
Immediately drawn to the commercial side of the profession, Wilson still has an affinity for workplace programming. "I still love to do a space plan. It's so satisfying," she says. In spite of all her accomplishments as a leading design professional, she also loves going back to the basics and being part of a team.
"I love having a leadership role, and I love having an influence on the direction of the firm, but I will never—as long as I do this—not be working on projects with our team," she says. "I don't have to be in charge. I just like to be a contributor."
---
Article originally written by Robert Nieminen on March 26, 2019 and published in Interiors and Sources, You can read it here.