Projects
West Plains High School, Canyon ISD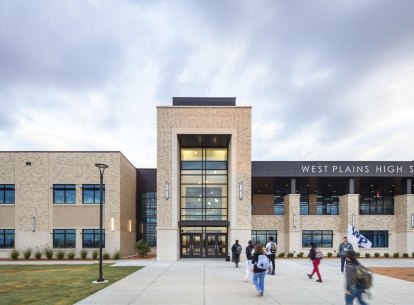 Project Stats
Client

Canyon ISD

Size

278,587 SF 

Awards

TASA/TASB Exhibit of Architecture, Caudill Award 

TASA/TASB Exhibit of Architecture - Star of Distinction: Design, Wellness, Community, Transformation

Market

Expertise
Embracing the community's heritage while establishing a new standards. 
Drawing inspiration from its West Texas heritage, the new West Plains High School is home to 1,200 students and a response to preserving community values that celebrate 21st century quality learning in the midst of the area's rapid growth. A landmark next-gen learning experience for the community, West Plains High School is tailored to not only drive student success but is also a tangible expression of the district's educational aspirations for themselves and the students it serves. 
Situated on ten acres of ranch land, the campus is anchored by a learning commons at the heart of the campus. A light-filled library, tech lounge, and coffee bar encourage intentional and casual connection while providing spaces for individual, focused work. A two-story classroom wing functions as a major circulation artery and seamlessly connects students to classrooms while maximizing accessibility in the space. 
With comprehensive CTE and extracurricular programming, West Plains High School's campus offers industry-leading amenities strategically designed to accommodate the latest technologies and equipment. CTE labs and classrooms empower students with real-world tools and experience in a variety of industries, including floral design, culinary arts, veterinary and health sciences, and construction technology, in welding and woodworking. The fine arts area features ensemble and choir rooms, a black box theater, a band hall, and an 800-seat performing arts center with state-of-the-art lighting and acoustics.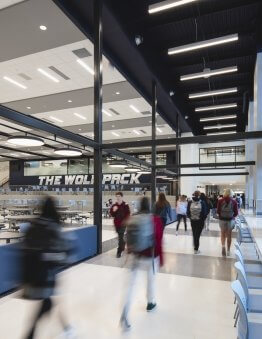 Supporting the holistic student.
A suite of athletic fields includes a football/track stadium, eight tennis courts, an all-purpose indoor training facility, a fitness center/weight room, and gymnasium. Together, the campus offers students a rich and robust experience to discover their academic and extracurricular potential - inspiring and equipping them with the resources they need at their fingertips.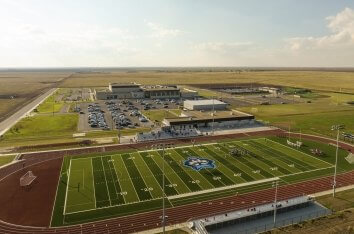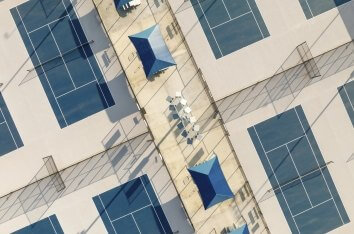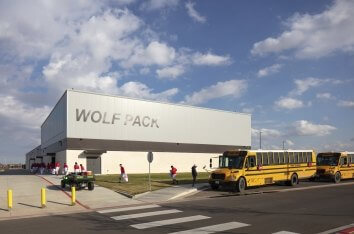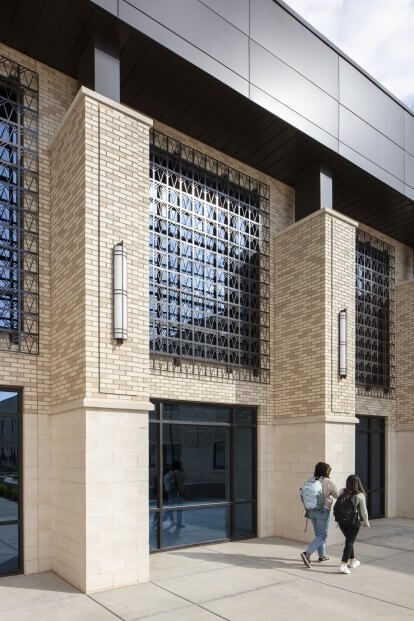 Art-Deco Inspired
Balancing art deco inspired by downtown Amarillo with more modern finishes and furnishings, West Plain's campus emulates a collegiate experience to prepare students for future learning and provide a best-in-class experience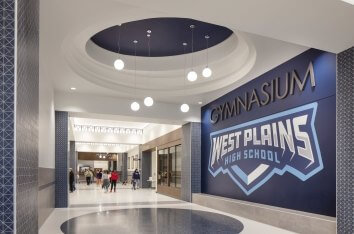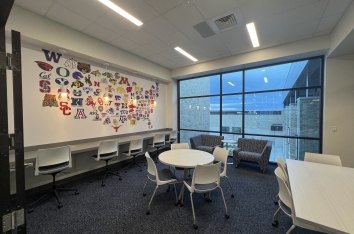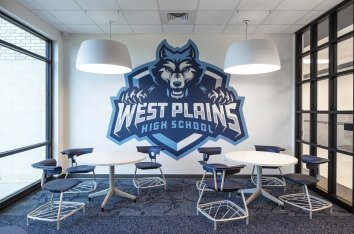 Creating belonging through branding.
A place of pride and belonging for the student body and the surrounding area, the campus celebrates their "Wolf Pack" identify in branded graphics, color palettes, and finishes while a logo collage of top-ranked universities articulates their collective values of continues learning.