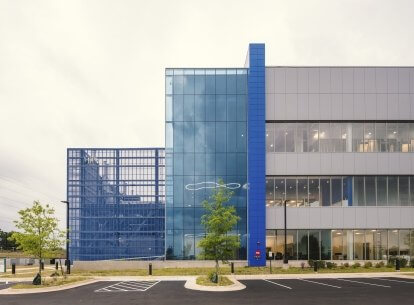 Project Stats
Location

Sterling, Virginia

Size

1,630,000 SF

Market

Expertise
Highly aesthetic data center with a streamlined workplace
The VA13 three-story data center contributes to Vantage's impressive data center portfolio and long partnership with Corgan. Designed to appeal to top tech companies with high standards desiring beautiful aesthetics, the facility functions as a secure data center supporting infrastructure for storage and provides 45MW master planning capacity at full fit-out consisting of data modules at 15MW each. The modern and streamlined space promotes work/life balance with amenities and a comfortable and playful workplace environment to attract and retain employees.
Compelling features create a unified, cohesive design
The façade's main focal point is a blue metal panel blade wall and a blue glass feature wall creating a sail-like aesthetic that reflects the Vantage brand. The exterior perimeter provides a cohesive and unified campus utilizing materials of insulated precast panels, metal panel wall assemblies, and expansive glass curtain wall systems. Screening is provided to conceal mechanical and electrical equipment from public view and adds to the seamless design. Pedestrian sidewalks with mature trees and circulation paths around planters bring in biophilic elements and create a welcoming entrance.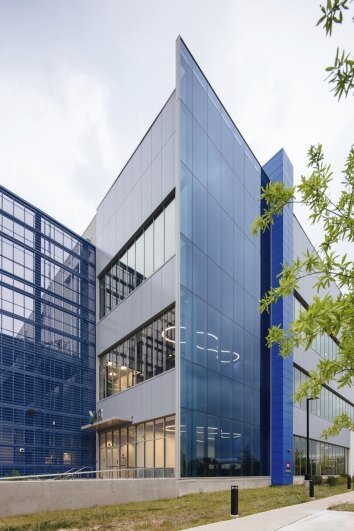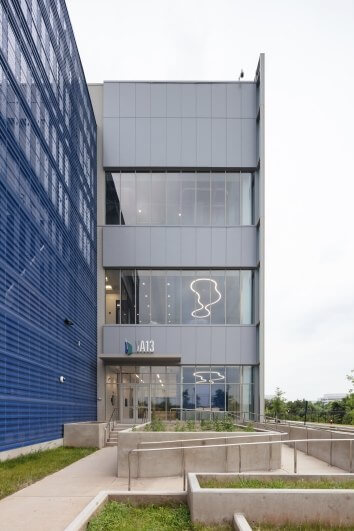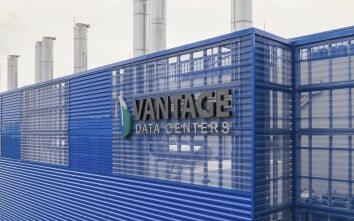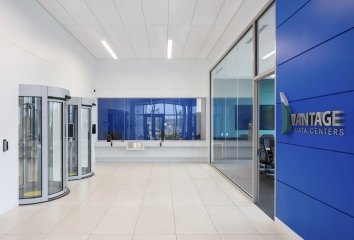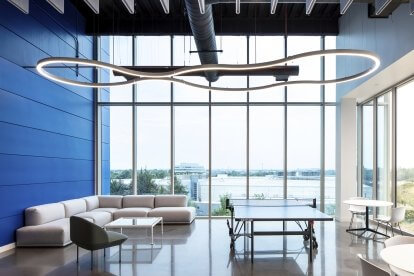 Compelling double-height floor-to-ceiling glazing allows see-through transparency and maximum natural light with high visibility to the public roadway. Interior blue wall panels and creative light fixtures anchor the space as unifying brand elements and create visible interest both inside and outside the building. Spacious offices as well as common areas with gaming, ping pong, lounge areas, and a work café create spaces for workers to relax and bond. Multiple layers of security include fingerprint readers and smart biometrics controls to create a safe space designed to make tenants and their employees feel comfortable and secure.