Projects
University of North Texas, College of Visual Arts and Design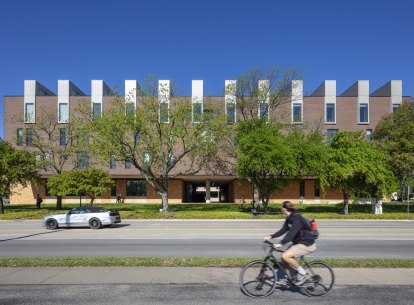 Project Stats
Size

140,000 SF

Market

Expertise
The College of Visual Arts and Design (CVAD) is a prominent gateway to the University of North Texas campus, occupying a significant campus edge. Previously spread across eight buildings throughout the campus, the expansion and renovation of the existing building unites 15 diverse programs under one roof. The seamless consolidation of these programs encourages interdisciplinary collaboration and connects the college to the larger DFW arts community through both interior and exterior transparencies.
The new addition honors the existing campus architecture while creating a modern face for the community. A large gallery space on the east corner of the ground floor features the artwork of students, alumni, and the broader Denton community. Prominent light monitors on the fourth floor create an iconic façade while maximizing natural light for painting and drawing studios. To showcase student work from conceptualization through the creation process, student display units are spread throughout the building, while enlarged, naturally-lit corridors serve as critique spaces. Spaces for making, discussing, and viewing were connected through merged studio spaces, large glass walls, and neutral materials, showcasing both the process and final product.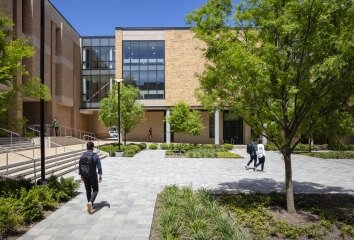 Courtyard
A central courtyard is the heart of the building, providing a place for respite and a communal space to interact and ideate. The east courtyard façade serves as a large projection screen for audio/visual display, encouraging social gatherings and video critiques after hours.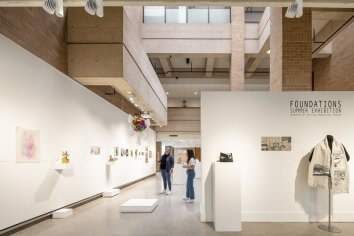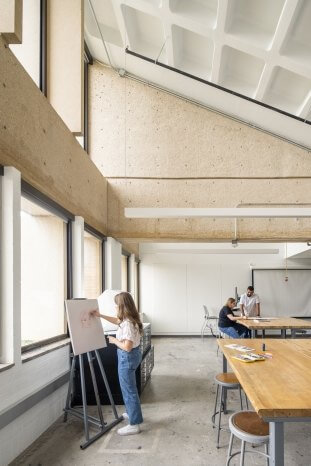 Renovating the existing facility.
The new and existing spaces are merged through elevated glass corridors. Due to 30 years of multiple adaptations, the existing building failed to operate efficiently and did not meet the needs of the evolving programs. Isolating the basic structural and organizational systems during design created flexible, collaborative spaces while meeting strict budget requirements and required life safety updates.
Awards & Recognition
IIDA Texas/Oklahoma Chapter

Best in City Center - Dallas