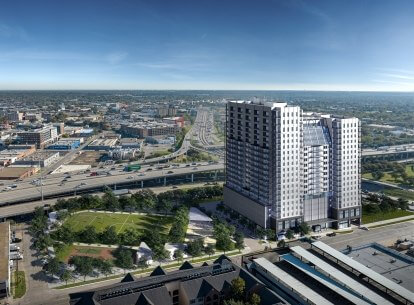 Project Stats
Location

Dallas, Texas

Size

512,000 SF

321 units

Market

Expertise
Balancing complexity and simplicity with neighborhood charm.
The GreenHouse is a 21-story tower that adds nearly 300 units of luxury housing and ground-floor activation in a highly desirable and flourishing neighborhood. Taking design cues from its vibrant, historic district, the project balances simplicity and complexity through layers of raw materials, a strong masonry base, and intentionally exposed parts of its steel and concrete cast in place structure — a nod to the abundant neighboring warehouses. 
The building form is an efficient U-shape that is articulated as two separate towers of different heights with an infill tower culminating in a glass crown that emulates historic showrooms found often in early 20th century structures. Balconies fabricated in expressed steel create a framework that add visual interest to a simple, efficient façade. Townhomes flank the ground level towards a proposed park envisioned by the City of Dallas.
Process
Getting the details just right.
Exploring various iterations of the façade details guided design decisions to create the ideal building heights, window and balcony placements, and exposed structural details.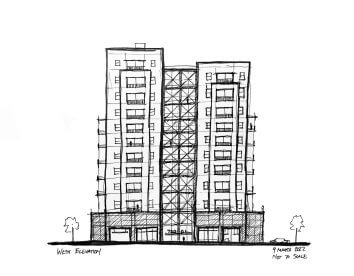 Option 1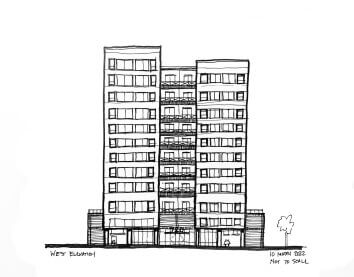 Option 2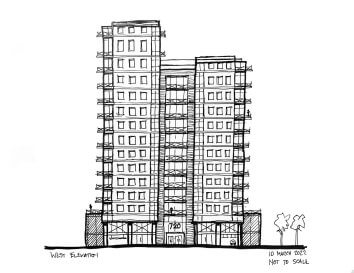 Option 3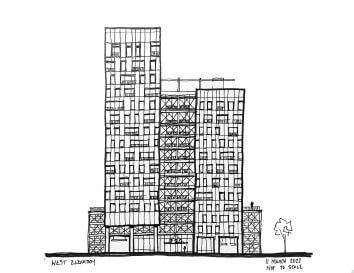 Option 4
Amenities
Bringing the outdoors in by celebrating the natural landscape.
A large amenity area is featured on level 5, including a 12,000-square-foot outdoor terrace with elevated pool and hot tub, and a variety of seating options to relax and enjoy the view of the neighborhood. The complex also features an enclosed dog park, secure resident parking, water collection cisterns, and an observation deck on level 17.