Projects
Texas State Technical College, Red Oak Industrial Technology Center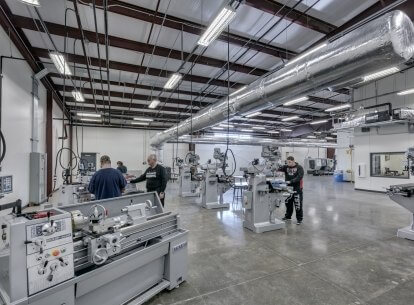 Project Stats
Client

Texas State Technical College - Red Oak

Size

130,000 SF

Market

Expertise
Technical training opportunities for a specialized workforce.
This new facility was a collaboration between the local school district, Texas State Technical College (TSTC), Navarro College, local industries and the City of Red Oak. This facility was a reaction to a very specific need of Triumph Engines, who built a manufacturing facility in the city. To train local mechanics for their facility, Triumph worked with TSTC to design a curriculum to support their local need.
The industrial facility is designed with ultimate flexibility in mind. Large, open spaces with power and environmental systems provide a place to install any type of equipment, including the engineer repair and manufacturing machines, provided by Triumph Engines. The facility houses diesel engine technology, welding, HVAC, and CNC labs, among others, providing students with hands-on training to directly enter the workforce.
The campus is located next to Red Oak High School, bringing technical educational opportunities to high school students. Active students can attend ITC at half the price and obtain job training for local, Ellis County businesses. This model generates an economic boost and increased viability for the City of Red Oak.