Projects
Texas A&M University-Texarkana, Building for Academic and Student Services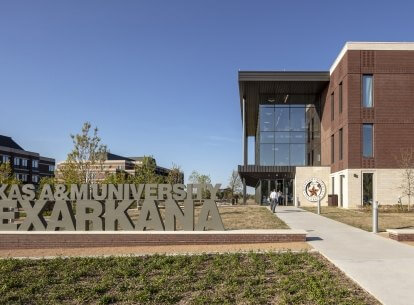 Project Stats
Client

Texas A&M University Texarkana

Size

58,000

Awards

ENR Texas & Louisiana — Award of Merit in Higher Education/Research category

Market

Expertise
A multi-disciplinary solution to encourage cross-curricula collaboration.
Located at the intersection of four states, the new Building for Academic and Student Services for Texas A&M University Texarkana responds to the contextual environment, defines the campus, and is sensitive to the community. Establishing a main entry to the campus, the building was carefully placed along major axes, serving as an extension of the existing framework while making a strong, modern statement. Visual transparency is optimized at the building's entry, creating inviting public spaces.
The building encompasses three floors, accommodating the nursing department, student enrollment services and business office, offices for the dean, faculty of the College of Business, STEM laboratories, and general instruction classrooms. Due to these diverse programs, functional zoning and shared spaces were key design considerations. To showcase several state-of-the-art facilities, views were created into the innovation lab from both the public lobby and the campus to allow ideation to be on display. Vertical circulation is strategically placed to encourage engagement and interaction between typically siloed departments.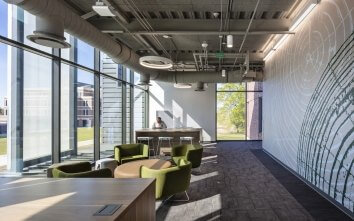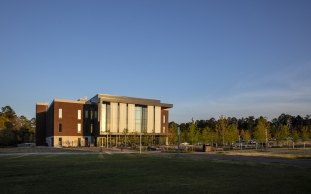 Embracing the landscape inside and out.
To ground the campus in the surrounding Piney Woods, the design team created a new entry of the campus. Concrete paving transformed into a grove of trees with respite areas, creating a new front door for the campus. The beauty of the Piney Woods is also translated in the interior spaces. Interior finishes and furniture are crafted using natural materials, and earth tones with blue and green accents as well as tree-ring graphics are featured within the space.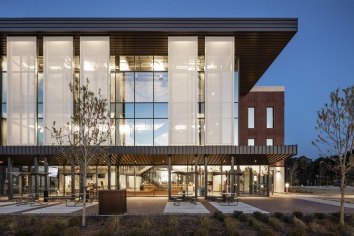 Designing the lantern.
The notion of creating a "lantern" was an early design concept, occupying the west-face of the building. As a transparent point of entry, high-traffic public spaces were oriented along this façade to promote activity, thereby animating the "lantern" upon approach. To combat problematic solar heat gain and glare, the lantern is shielded with large fins that collect natural light from the north. The solar shade utilizes a passive approach, blocking unwanted direct light while capturing ambient daylight. At night, the building glows, casting light out to the campus.