Projects
Spring Canyon Elementary School, Canyon ISD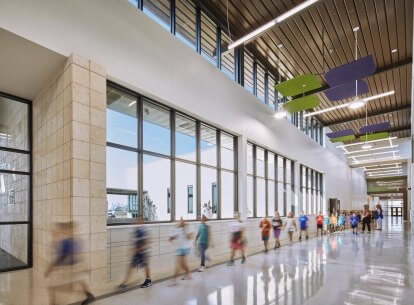 Project Stats
Client

Canyon ISD

Size

80,000 SF

Market

Expertise
Supporting a growing community.
Corgan designed the new Spring Canyon Elementary School in tandem with Heritage Hills Elementary. The new 750 student capacity schools serve Pre-K through 5th grades and relieve a growing community to provide much needed capacity for the district's elementary student population. Each campus helped unify the district by creating one prototype. The campuses vary in environmental branding, creating a unique campus feel, while maintaining similarities in form and function. Through this prototypical method, the district was able to bridge communities while saving in construction costs.
The design integrates flexible learning environments, collaboration spaces, and a robust and integrated technology infrastructure. The teaching teams at Heritage Hills Elementary School and Spring Canyon Elementary School are now leading pedagogy transitions at the other Canyon ISD existing campuses.