Projects
Rodriguez Middle School, Denton ISD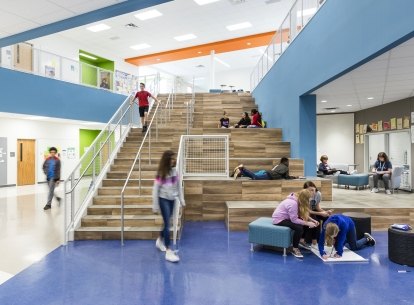 Project Stats
Client

Denton ISD

Size

170,000 SF

Awards

TASA/TASB Exhibit of Architecture - Star of Distinction: Sustainability & Planning 

Learning by Design - Outstanding Project, Middle School

Market

Expertise
Scaled to create a neighborhood feel.
Serving 1,000 sixth through eighth grade students, Rodriguez Middle School was designed with a focus on scale and wellness. Each grade level is a self-contained academic neighborhood anchored by a learning stair and common space that can be used for small group collaboration or large group lectures. The variety of seating, surfaces and scale lets students choose where and how they work, and gives them a place to take a break and recharge. All classrooms surrounding the stairs have glass windows, giving teachers visual connection with students in the common space.
At the center of the floor plan is a learning hub, which houses the library and learning labs, and two internal courtyards that provide views from each academic neighborhood as well as outdoor learning and dining opportunities and additional performance space.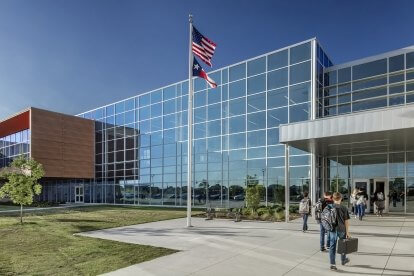 Sustainability
Maximizing student well-being and connecting them with the natural environment was an early design goal. A retention pond for rainwater collection and site irrigation doubles as a learning space for students, featuring a walk-up area for classes to use for instruction.
ICF external walls, geothermal HVAC and a highly-efficient envelope saves significant energy and life-cycle costs.
Large glass facades were designed away from direct light to preserve energy, yet allow for maximum daylighting.