Projects
Northeast Texas Community College, Campus Redevelopment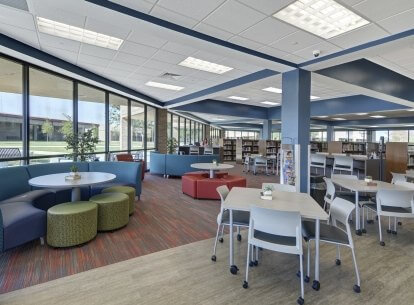 Project Stats
Client

Northeast Texas Community College

Size

93,272 SF

Market

Expertise
Establishing a sense of place and creating an identity within a limited budget.
Built in the 1980s, Northeast Texas Community College had not been renovated or updated since its original construction. The campus needed attention to support the high-standard educational experience the College offers. Allocating the budget effectively to establish a sense of place was a large project driver. Attention to the campus' interior plaza helped to create a sense of identity and create a sense of pride for students, faculty, and the community. The richly-landscaped plaza and purposefully-placed walkways encourages pedestrian circulation and campus connectivity.
The campus redevelopment includes updates to the entire campus, with modifications and renovations to the University Health Science Building, Humanities Building, Math and Science Building, Administration/Student Services Building, Learning Resource Center, Instruction Annex, and Building Technology Building as well as the Student Union. The modified campus brings all buildings up to code and establishes a modern, collaborative learning environment.