Projects
Metro Edge IMD1 Data Center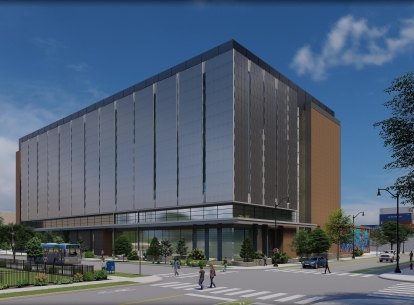 Project Stats
Location

Chicago, Illinois

Size

190,000 SF

Data Hall

96,000 SF

Critical Load

16 MW

Market

Expertise
Corgan is partnering with Metro Edge on the IMD1, the company's first data center located just southwest of the City of Chicago in the Illinois Medical District. The site sits on the corner of Hastings and Damen, a prominent intersection in Chicago, amongst diverse neighbors including mixed-use offices, a school, the FBI headquarters, and a railroad. This opportunity zone allows Corgan to create a unique data center that will be a catalyst for the community.
Working on a constrained site, the building goes right up to the property line. This site also requires the design team to create unique security solutions that are aesthetically pleasing while also keeping the facility secure. To confirm security of the building while still maintaining functionality, Corgan placed all of the main infrastructure on the first floor with the data halls on the upper four floors. The five-story building, which is not typical for this building type, is considered a high-rise, which required the design team to work upwards rather that across like a typical data center.
Corgan, alongside Via Chicago Architects worked through conceptual design to help Metro Edge find the perfect concept for their data center. They wanted the data center to not only fit into the fabric of the neighborhood and community, but fit the look and feel that is uniquely Chicago. Corgan incorporated dark colors and lights that bring the data center to life while also staying true to Metro Edge's vision of creating something timeless that would grow and work alongside the community it resides in.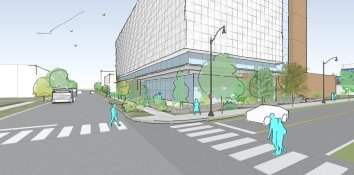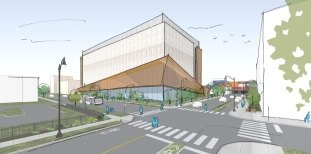 Concept Designs Start to Bring the Building to Life
Corgan started the design process by playing with angles to start to get an idea of Metro Edge's vision. Once a 'shape' was decided on, concepts were drawn up and options were chosen. At the beginning of the design process, glass was at the forefront of what was wanted for the design, but  was later ruled out to let security be the main focus. Multiple iterations were put together to incorporate glazing and landscaping, both requirements by the City of Chicago. Ultimately, Metro Edge chose an option they called Pixel because of the break-up of the metal panels on the building.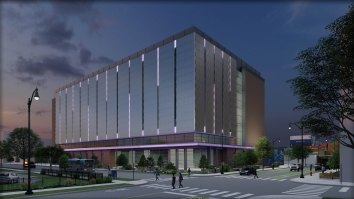 Programmed Lights Give a Pulse to this Community-Focused Project
The final design was refined after about 20 concept iterations and four weeks of working through building materials. The design incorporates bricks, metal panel, and glazing with the secure parts of the building above the canopy to create a cohesive, timeless look. Glass helped to break up the building materials and showcase the stairwell. Lighting was applied to the exterior of the building and programmed to give the building a pulse — emulating breath and exhaling life into the community-focused design. The lights are also used to celebrate local sports team wins, holidays, and other events happening around the city.