Projects
Lowery Freshman Center, Allen ISD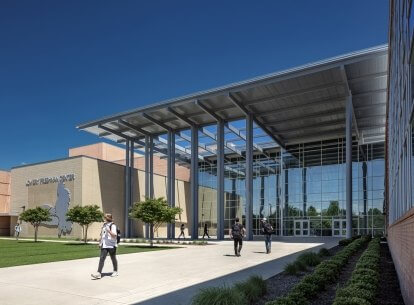 Project Stats
Client

Allen ISD

Size

300,000 SF

Awards

TASA/TASB Exhibit of Architecture - Star of Distinction: Design

Market

Expertise
Easing the transition into high school.
Students in Allen ISD were making a large jump from their neighborhood middle school into the whirlwind of a 6,000-student high school. Corgan designed the new Lowery Freshman Center campus with a focus on easing that transition for its 1800 students. Built on the same site as the school it replaced, sequencing was critical to keep the campus operational and avoid disruption. The new facility includes an 800-seat performing arts center, black box theater, and rehearsal halls for band, choir and orchestra. A gently curving central spine provides clear wayfinding and connects scaled Academic pods anchored by flexible collaboration spaces. The campus gives Allen ninth graders a place of their own with convenient access to all the programs and facilities available at the adjacent high school, giving students the best of both.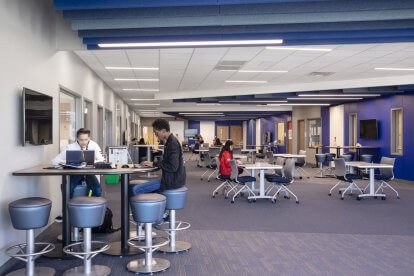 Huddle spaces with natural light function as innovation hubs and include visual connectivity to allow student to learn outside the four walls.