Projects
Kiser Middle School, Guilford County Schools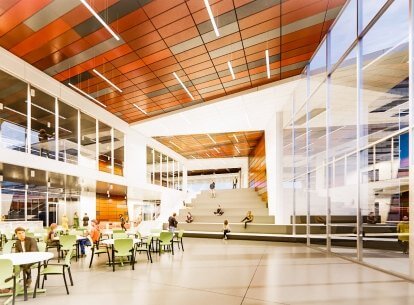 Project Stats
Client

Guilford County Schools

Size

163,000 SF

Partner

Goode Van Slyke Architecture

Market

Expertise
Realizing new potential on the same site. 
The new Kiser Middle School sparked the creation of a campus facility master plan on the same site as the new elementary school, high school, and athletic fields and stadiums. 
The design team was charged with analyzing for the new Kiser Middle School along with re-positioning key elements throughout the campus.
The new Kiser will be a true state-of-the-art educational facility with flexible teaching labs, makerspaces, lyceums and science labs, 2D and 3D arts, and an open commons area with learning stairs. These spaces will be nestled together with dynamic outdoor teaching areas, a student quad, a science courtyard, amphitheater, and teaching gardens.
Due to the combined K-12 campuses on the same site, careful attention is being considered to both vehicular and pedestrian circulation, as well as safety and security for all schools and grade levels.