Projects
GI Alliance Willow Park Shell & ASC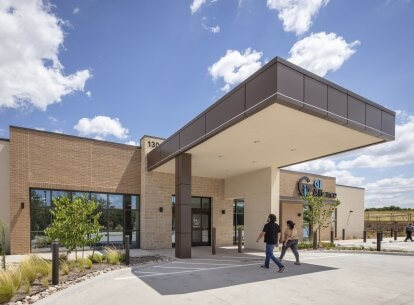 Project Stats
Location

Mansfield, Texas

Size

12,665 SF

Market
Breaking Ground for New GI Surgery Centers
GI Alliance, the largest physician-led gastroenterology practice in the US, initiated a rapid expansion of new single medical office buildings and ambulatory surgical centers across the nation. The company enlisted Corgan to plan and design several facilities in North Texas to attract gastroenterologist groups to invest in the practice and hasten speed to market. For Willow Park, Corgan worked closely with the developer to right-size the site they had acquired and complete test fits as well as design both the shell and interiors to create an efficient and aesthetically pleasing environment.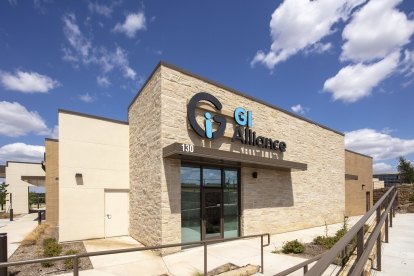 Quality Care and a Desirable Patient Experience
The design adheres to three specific challenges: simplicity to maximize ease of decision-making and minimize costs; standardized branding across locations; and compliance with city code requirements. Massing responds to the size and scale of the site and articulates local design guidelines and regionality. A façade of natural stone, brick, and stucco materiality creates a warm and inviting exterior while floor-to-ceiling glazing fills the lobby and waiting room with natural light. Inside, clean lines with neutrals, blue hues, and wood veneer create a calming, modern aesthetic for a warm and caring environment. Providing a streamlined circulation at every touchpoint, the layout provides wayfinding and ease of access for a customer-centered and empathic patient experience.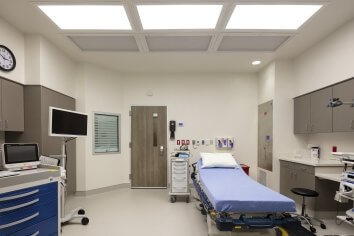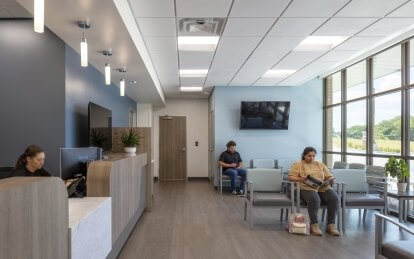 Patients Come First
Led by like-minded physicians with a "patient first" attitude, GI Alliance gives patients access to cutting-edge services in a convenient and comfortable facility designed to support the company's fast growth.