Projects
Freedom Financial Office & Customer Experience Center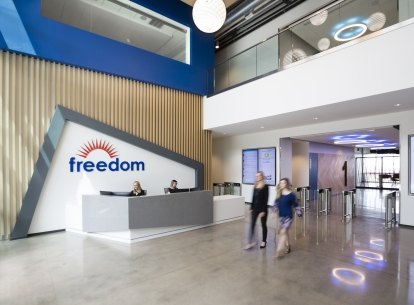 Project Stats
Location

Tempe, Arizona

Size

300,000 SF

Market

Expertise
A vibrant new workspace for employees with a memorable guest welcome.
Freedom Financial Network is a new 300,000-square-foot campus with two buildings connected by a central amenity space. Building 1 is mostly open office space with collaborative spaces, training rooms, and ample views. Building 2 houses more open office space as well as a full-service cafeteria.
This branded workplace evokes excitement, energy, warmth, and personal ownership. It includes varying colors, natural textures, and playful patterns creating a sense of personal space within a larger community. 
The "Wow Room" in the new Freedom Financial campus was designed to be a visitor's first introduction to the organization. Through the use of innovative technology, guests such as job interviewees, vendors, potential clients, and corporate partners are able to learn about Freedom Financial's values, culture, and purpose in a highly interactive and branded setting.
the "wow room"
Corgan MediaLab provided creative concept development services and a produced over 70 deliverables (video and motion design) for this project. MediaLab partnered with 900lbs to produce an art installation of over 4,000 custom credit cards serving as a projection screen. A 16' x 8' touchscreen wall allows viewers to see customer testimonials, interactive maps, scrollable galleries and a timeline of fun facts about Freedom Financial. 
In order to confirm Freedom's content would stay relevant, a back-end content management system (CMS) was created, so that Freedom could have the flexibility and tools to incorporate new content into their touch wall when needed.