Projects
Dove Mountain K-8 C-STEM School, Marana USD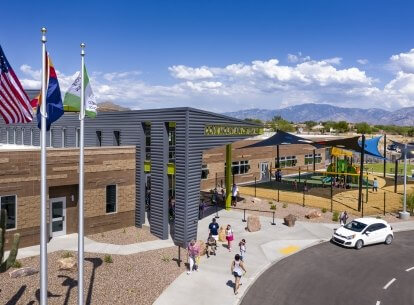 Project Stats
Client

Marana USD

Size

98,000 SF

Awards

AZRE RED Awards Education Project of the Year

ENR Merit Award for K-12 Education 

IIDA Southwest PRIDE: Education K-12 Award of Merit

Learning by Design, Grand Prize Award: Combined Level School

Market

Expertise
Celebrating, learning, making, and discovering through hands-on lessons. 
As the first C-STEM (computer, science, technology, engineering, and math) school in the state of Arizona, Dove Mountain is setting a precedent as a school of choice. The design celebrates student-driven learning and making. Kindergarten through fifth grade students are introduced to C-STEM concepts through experimentation, while sixth through eighth grade students can dive deeper into subjects that pique their interest. Their natural curiosity can develop into a lasting interest in these fields.
Large, highly-visible collaborative maker spaces line the heart, or "arroyo", of the building, fostering student awareness of their peers' work. Common spaces and circulation paths allow for separation between elementary and middle school students while maintaining connectivity and a sense of community. The site-responsive building acts as a teaching tool, highlighting the natural ecosystems present and respecting the natural landscape.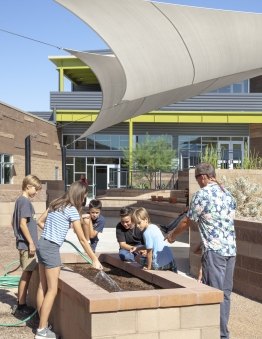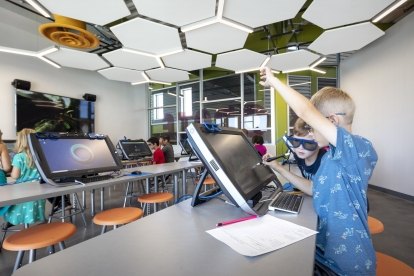 Visualizations to enhance the learning experience.
Through the use of zSpace labs, students engage in educational lessons by viewing and manipulating virtual models in three-dimensional space. Objects appear to physically "float" in front of the zSpace computer monitors where groups of up to three students can examine them in detail from all angles and manipulate them using a stylus pen, effectively bringing learning to life.