Projects
District Wide Five Year Master Plan, Citizen's Engagement and Bond Planning, Frisco ISD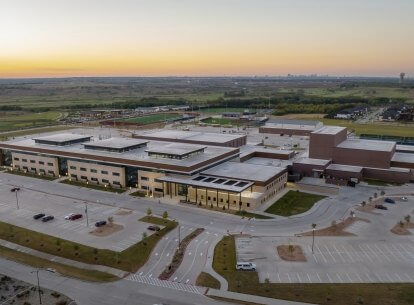 Project Stats
Client

Frisco ISD

Market

Expertise
For over two decades, Corgan has been a trusted partner to the district, leading it through seven different community planning and development committees in Frisco ISD. From the formation of the original growth platform, the firm's involvement in planning and development, and the resulting 50+ facilities in 25 years, Corgan's leadership was pivotal in this district, building it from 3,000 students to 60,000 students within that time. These seven community programs resulted in passage of over $2 billion in community supported, taxpayer-funded bonds for new facilities in this district.
In 2018, Corgan assisted Frisco ISD with district-wide master planning, community engagement, communication, and formed a citizen's committee to help develop a bond program. With the knowledge of current conditions and the district's goals, the committee built a five-year master plan for the district and a subsequent bond program recommendation. In addition to facility needs, the school district need an increase in Maintenance and Operations (M&O) funds to pay for operational needs. The community developed tax swap program that allowed for an increase M&O funds and a decrease in Interest and Sinking (I&S) funds to support the facility and program needs. The committee's recommendation was presented to the school board and unanimously approved by the school board.
After the election was called, Corgan supported Frisco ISD's factual communication program, including ethics presentations and training, graphics support, messaging development and programming, engagement of the campuses and teachers, and video and drone footage support to aid communication. We also developed and implemented speaking programs and community engagement programs. During a 12-week communication program, the entire community was engaged in the discussion to understand the needs and support the district's future.
Projects from this bond program included funding for four new schools, including Richard A. Wilkinson Middle School and Panther Creek High School, as well as maintaining and repairing existing facilities, classroom technology, school security, and student opportunities in academics, fine arts, and athletics.