Projects
Design Sprint: Vertical Farming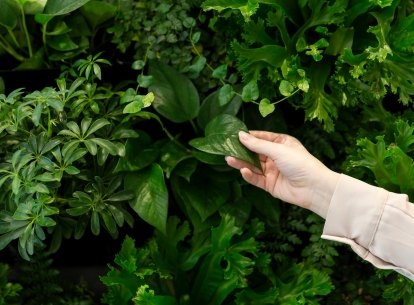 Project Stats
Type

Design Sprint

Expertise
A conversation about food
Any conversation about energy would be incomplete without talking about perhaps the most primary kind of fuel for humankind: food. A growing population, dwindling land, extreme weather, and urban food deserts have exacerbated an already challenged food supply responsible for feeding nearly 8 billion people. At the same time, food waste continues to grow, as does the impact of food production and delivery on the environment — giving birth to smart agriculture that taps into the power of AI to better control water and energy use as well as innovative ideas such as vertical farming. Hugo is exploring the future of a distributed food system that encourages on-site food production in dense, urban areas to meet the growing need while increasing the sustainability of food production and distribution. In collaboration with Eden Green Technologies, Hugo has investigated how our commercial real estate can adapt and introduce vertical farms into the built environment by developing a reconfigurable parametric model that enables designers to discover optimal design solutions based on site conditions, food production requirements, and population densities.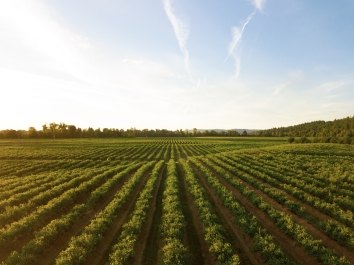 The Reality
Our current food system is restricted by the location of farmland, and it relies on a relatively small number of conglomerates.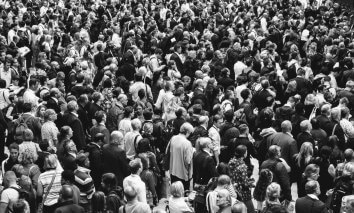 The Problem
Compounding factors such as growing population, limited farmland, and extreme weather are challenging us to find more sustainable ways of producing food in the 21st century.
The Solution
A distributed food system that encourages on-site food production within urban dense areas.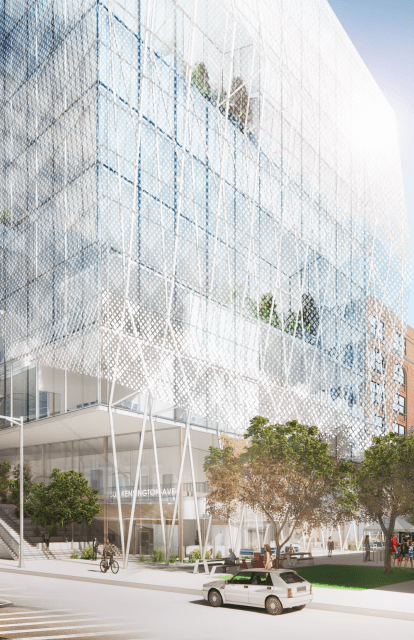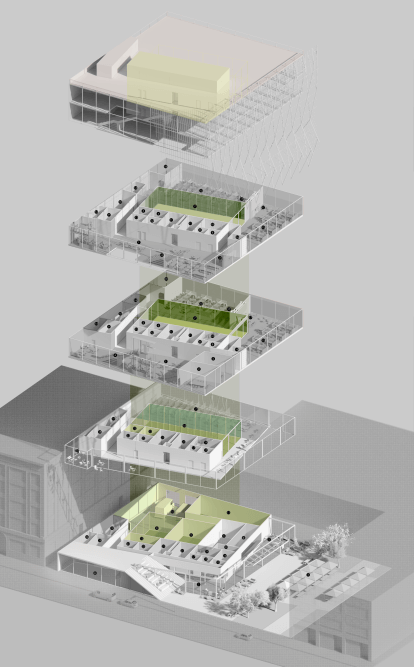 Data Driven Design
Designing an Urban Vertical Farm
To gain a better understanding of how commercial real estate can provide food for both building occupants and the surrounding community, Corgan conducted a design investigation that incorporates a greenhouse vertical farm into a typical office building. Introducing biophilic design into the workplace can positively impact both the employer and the employee experience.
The design incorporated multiple community-focused amenities such as an education kitchen and a learning lab — to better understand the harvesting practices and take cooking classes — various cafés, restaurants, grocery, and space to host weekend food donation markets where surplus food can be donated to those who need it the most.
Providing fresh food cultivated and served on-site can play a big role in a company's ability to visibly promote health for their employees, while simultaneously serving the surrounding community.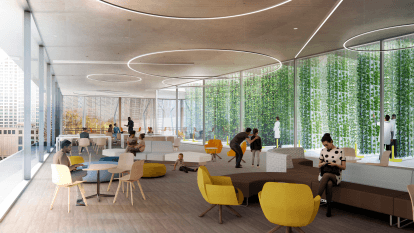 Looking Ahead
Vertical Farming, a Necessary Move
Vertical farming is a maturing industry today and will be a necessary one in the coming decades. Considering that our buildings are built with enduring lifespans, it is essential to understand how to harmoniously introduce vertical farms into our urban environments.
Learn more by viewing page 98 in our 2022 Curiosity Report.