Projects
Confidential Technology Client Data Center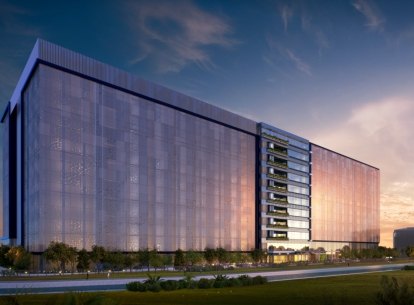 Project Stats
Location

Singapore

Size

2 million SF

Data Hall

420,000 SF

Critical Load

150 MW

Market

Expertise
First Custom-Built Data Center in Asia for this Fortune 500 Client
Corgan led an international team of consultants with members from multiple U.S. states, Ireland, England, Scotland, Australia, Spain, and Singapore in presenting aggressive solutions to maximize site utilization, deliver on sustainability goals, provide a best-in-class PUE target for an equatorial climate and address concerns from strict regulatory entities in Singapore.
To accommodate the intended client program on the site, large modifications to allowable floor areas and building heights for the site are required by Singapore. Given Singapore's strictly regulated planning, both urban and for civil defense, this proved to be a challenge, requiring detailed documentation and numerous meetings with multiple government agencies. Additional efforts were also required to support client negotiations on the land lease for the facility. The design team, through diligent effort, was able to successfully obtain the additional permissions by the government to allow for additional size and height.
The client targeted an aggressive annualized PUE figure for a hot, humid equatorial climate with very little in the way of free cooling. This required the use of an innovative cooling solution deployed at a large scale. Very detailed studies and analyses were required to confirm units would perform to engineering requirements, and the presence of the equipment on external gantries would not cause overages in allowable gross floor area. These also required presentations to the government and fire brigade to confirm the solution was safe and viable. Though these efforts, Corgan designed the facility to function with this creative cooling solution.