Projects
Cologix ASH1 Data Center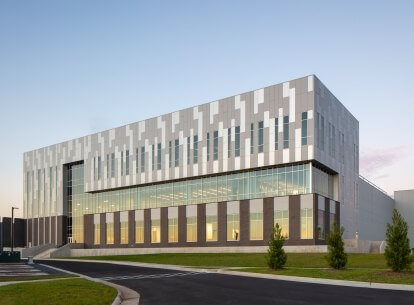 Project Stats
Location

Ashburn, Virginia

Size

455,000 SF

Market

Expertise
Playfully functional hyperscale data center
Cologix enlisted Corgan to design their hyperscale data center under their new Scalelogix Hyperscale brand. The first of its kind in terms of size and scale, the model offers greater application performance, connectivity, and flexibility and sets the stage for future builds. The facility provides a Day 1 deployment of 12MW on the second and third floors as well as office and storage spaces. The rest of the building includes a data shell, allowing future fit-outs up to a critical capacity of 90MW. The building includes containerized UPS rooms as well as office space, two loading docks, and one equipment yard supporting 12MW of critical load.
A playful, inviting space
Located in the DC hotspot, the client wanted a playful and inviting design to enhance its brand presence and stand out amongst others with sophistication and aesthetics to entice global companies as tenants. The three-story building features a façade unique to data centers with precast concrete, metal panels, and integral brick, along with expansive glazing. Varied insulated metal panels and rectangular windows enliven the exterior with rhythm and movement. The expansive glass allows natural light in shared spaces with views of raised planter beds and landscape lining pedestrian walkways.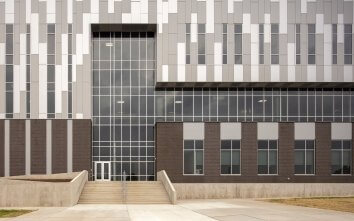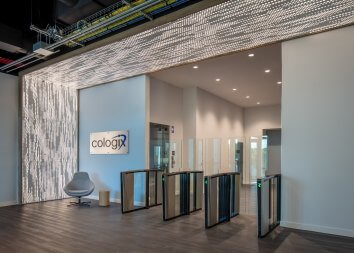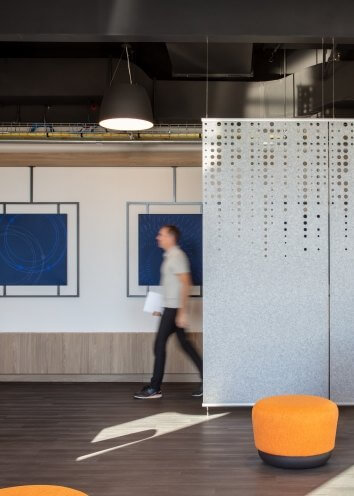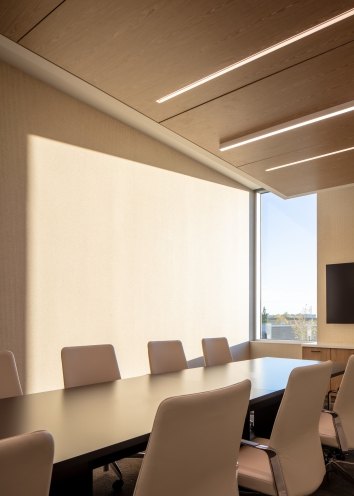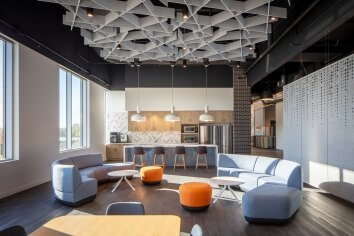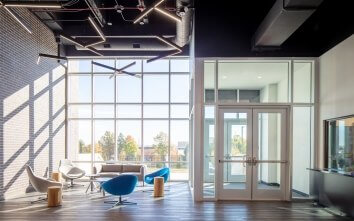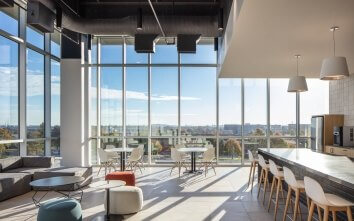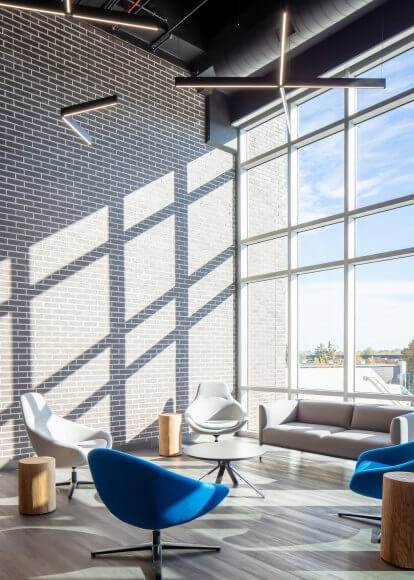 The space is functional without sacrificing aesthetics with three floors of office space and hospitality-inspired common areas to host industry events and large gatherings. Equipped with elevated details, the conference, meeting rooms, and lounges allow the building to be used in alternative ways. A neutral color pallet with pops of branded color and lively light fixtures energizes the space while graphics and colored walls create wayfinding routes. Furniture choices and warm muted finishes invite tenants and their employees to enjoy the welcoming space.