Projects
Blue Cross Blue Shield C1 Innovation Lab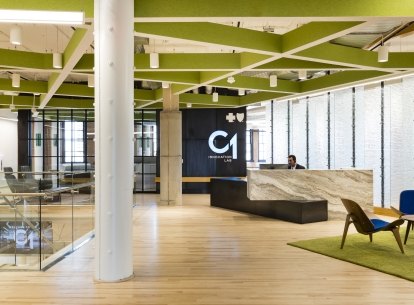 Project Stats
Location

Dallas, Texas

Size

31,000 SF

Market

Expertise
Historic bones, forward-thinking design.
The Blue Cross Blue Shield C1 Innovation Lab is designed to create an environment that is customer-focused, creative, and activated. This occurs while maintaining the company's history of being trusted by, and connected to, their clients. C1 connects the customer with the innovative tools and creative people who will collaborate with them on their specific and unique healthcare needs. This center features a three-planked approach to customer service by providing co-located business operations, a dedicated design team, and a collaboration space. Innovation was catalyst for many forward-thinking design decisions that came to life as open workstation zones, a think tank, central presentation stairs, and a conference center with comfortable amenities. C1 is housed in the top two floors of the Downtown Dallas West End Marketplace's newly renovated building developed by Granite Properties. Corgan worked with the building's historic design committee to preserve and maintain historic integrity throughout.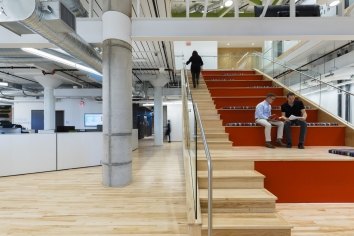 The central presentation stairs provide a stage for team meetings and client presentations. The stairs are front and center when you arrive at the front desk inviting you to connect to the buzz in the work areas below.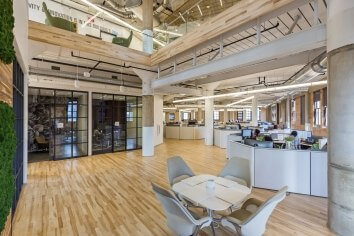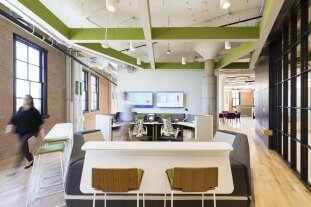 The open workstation zones are on display in the center of both floors. These areas are celebrated with exposed concrete ceilings, bare maple wood floors, and funky lighting. The abnormal workstation configuration provides life and movement in an otherwise typical set up. The think tank provides a space for the in-house design team to collaborate with their clients to create custom healthcare and bring it to market fast.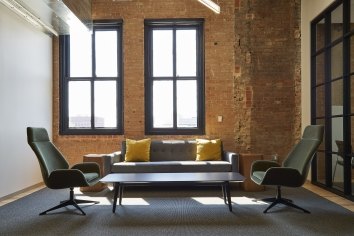 The conference center provides spaces that are flexible and adapt to client needs. Living room furniture arrangements are scattered throughout the space to provide clients a comfortable space to break out for a quick call or small group discussion. Personal touches focused on the client continue throughout the facility with small one-person quiet spaces, telephone rooms, and state of the art technology.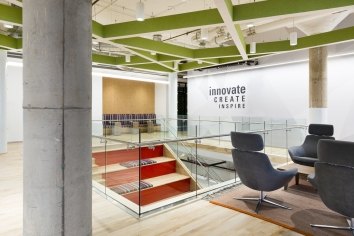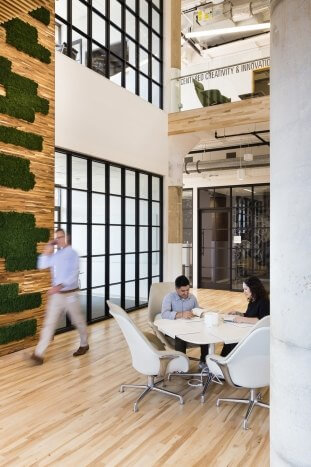 It is evident that employee health is important to BCBS. Corgan's environmental graphics team aided to support this mission through many wall design solutions like displaying walking maps of the city as large graphics, inspirational quotes, biophilic designs with real moss, and abstract foliage. C1 also offers employees healthy food options 24/7 and walking workstations.