Projects
Auctane Headquarters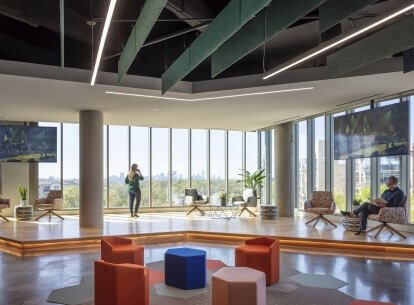 Project Stats
Location

Austin, Texas

Size

105,000 SF

Market

Expertise
Space designed as a surprising and seamless extension of the brand.
Auctane's new headquarters is located in first generation office space at The Grove mixed-use development in Austin. The Corgan team designed three full floors, expanding the exterior patios at each, and added a 5,000-square-foot roof deck overlooking the Austin skyline. 
The space combines three previously separate office locations under one roof to house multiple departments from sales to engineering. The design accommodates Auctane's collaborative work style and desire to continually evolve as a company. All levels have large open work areas with movable desks that provide flexibility for growth. The space is designed to accommodate up to approximately 600 employees in the future. 
The team wanted a fun and contemporary interior that will help secure top local talent, while also providing an aesthetic that is warm and inviting. Auctane's mission echoes evolution, inclusivity, and customer service. To honor this, the design team made each area fully flexible, dynamic, and efficient to meet the ever-rising expectations of Auctane's customers.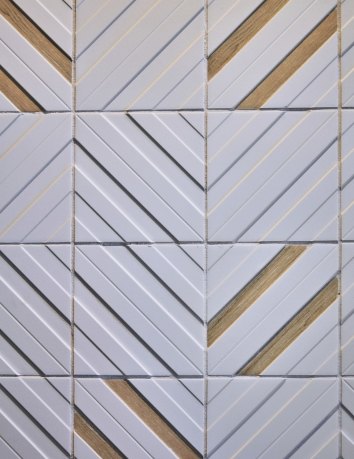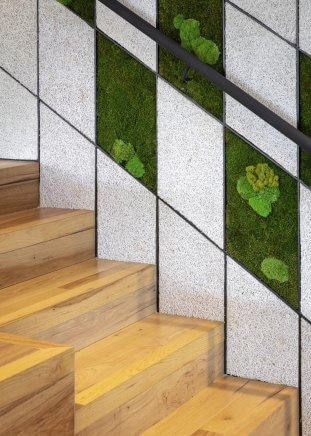 Design Inspiration
Moving in the right direction.
The angular design of the exterior façade is incorporated into the design of the interior space with diagonal glazing, ceiling elements, and unique features while pairing with soft tonal textures, classic colors, and warm wood grains.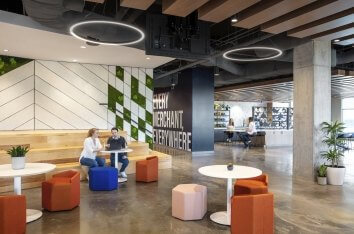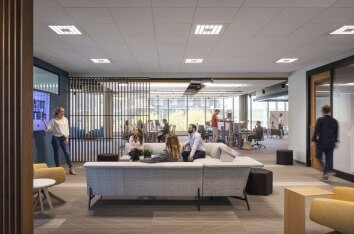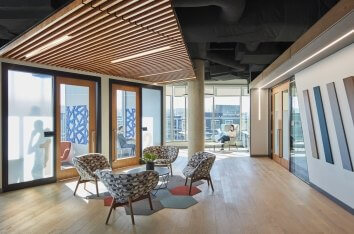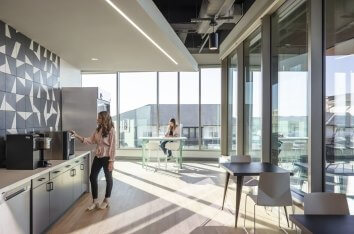 Programming
Intentional configuration facilitates flexibility.
Private offices are located throughout the space with meeting rooms of varying sizes readily accessible to all departments. Hydration stations, breakrooms, and lounge areas encourage impromptu meetings and collaboration. Strategic AV placement and the integration of conferencing and video software have played a large role in the layout and design of Auctane's office environment.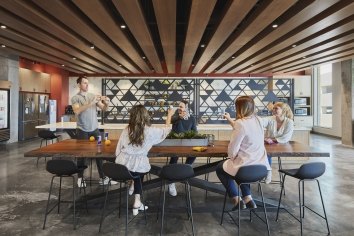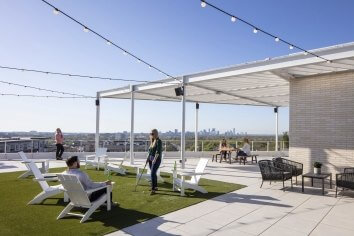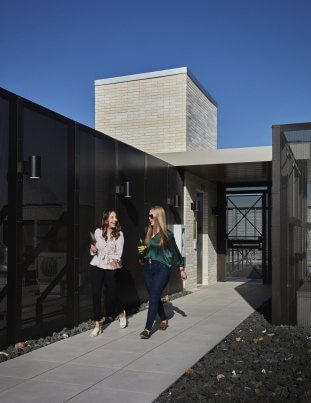 Roof Terrace
Elevated amenities.
An added staircase, extension of the existing exit stair, and additional stop to an existing building elevator give access to the new roof deck. In addition to stunning views of the Austin skyline, the roof offers open trellis shade structures, fans, and misters to provide respite from the Texas summer heat.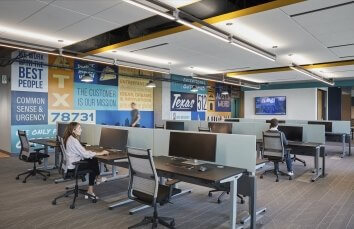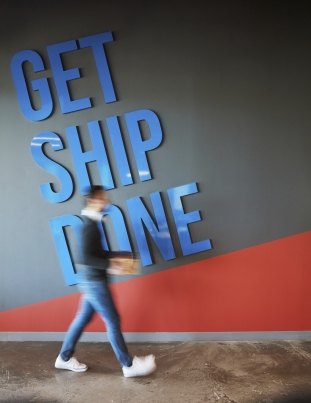 Environmental Graphics & Branding
Creating a sense of place.
With the new office and joining of multiple departments, came a new brand. The brand is incorporated into the design in a seamless and unexpected way, creating surprising moments throughout the user's journey into the space. Bold graphics and murals instill pride in both the company and the local Austin community.