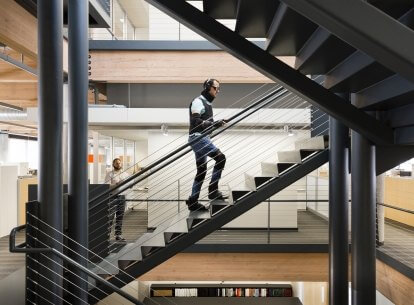 Project Stats
Type

Research & Simulation

Market
How can designers truly understand the experience of users with reduced mobility?
By walking a mile in their shoes – literally.
With the Age Simulation Suit, designers of all abilities can experience limited mobility in a variety of ways. With oscillating gloves that mimic hand tremors, shoes that create an unsteady gait, goggles that blur vision, noise reduction headphones, and movement-restricting knee and elbow braces that simulate joint stiffness, the Age Simulation Suit reduces mobility and increases complexity for even the simplest of tasks.
Being in their shoes
Using the suit, Corgan has conducted experiments in complex environments such as airports and hospitals to understand the anxiety and frustration simple navigation tasks may cause — all the while gaining data-driven insights on how we can design spaces that go beyond ADA compliance and more effectively respond to the needs of users with reduced mobility.