Projects
555 Ross Residences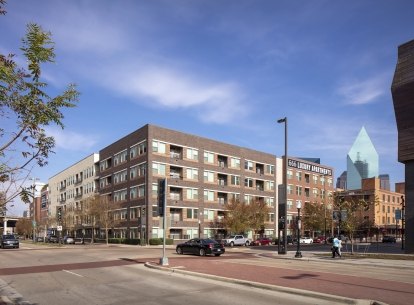 Project Stats
Location

Dallas, Texas

Size

477,000 SF

267 units

Market

Expertise
Modern living in a historic neighborhood.
The 555 Ross Residences is located in the heart of a historic district of Downtown Dallas. The facility totals 477,000 square feet, 312,000 square feet of which is residences. 
The development has upscale units on five floors that wrap a six-story garage with over 400 parking spaces. The top of the garage accommodates a rooftop clubhouse and fitness center which bookends a spacious pool deck that overlooks the downtown skyline. The ground level leasing office area features a dynamic lounge and outdoor patio. Many of the ground floor perimeter units will have walk-out stoops with landscaping and direct access to the sidewalk and the energy of downtown.