News & Insights — Insights
Investing in Communities: The Power of Healthcare Design
The past year has renewed our appreciation of health and wellness—expanding our notion of how we think of our own wellbeing and that of our community. Prevention, mitigating the spread of viruses, and quick responses to emergencies layered with education and community engagement to give shape to a more modern public health approach that reflects recent lifestyle shifts and is contextualized for our neighborhoods' unique needs.

As an extension of this evolution, healthcare facilities and campuses have an opportunity to provides security, comfort, and confidence in and to their communities. Often, these buildings articulate community values and start to define their identity. They have a placemaking ability as a core part of the area's infrastructure, a regular part in the lives of residents, and often mark important milestones for the community's growth and development. When the community sees a significant investment in a healthcare campus or facility in their community, they see an investment in their future. It attracts the expertise and knowledge of leading staff and resources—reinvigorating the access to quality healthcare in the area for years to come. Sometimes this means a new campus, but more often, smaller or medium-sized interventions such as departmental refreshes can contribute to the community's health and emphasize their commitment to public wellbeing.

The new physician's lounge at Northern Arizona Healthcare's (NAH) Flagstaff Medical Center (FMC), for example, the new outside dining facilities, or the departmental refreshes and compliance updates at FMC Behavioral Health and FMC CT Replacement go a long way in demonstrating a healthcare organization's partnership with the community on their goals. With the growing popularity of medical tourism and research opportunities, these healthcare organizations and facilities are no longer only an asset for their direct community; instead, their reach serves a much larger group of potential patients and providers. For Flagstaff—known for its wellness culture and outdoor attractions, these facilities reflect the continued growth and maturation that have motivated the area's recent airport and higher education opportunities.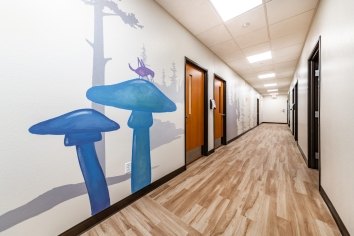 Case Study: Flagstaff Medical Center | Children's Health Clinic
Corgan was tapped to relocate the Children's Health Clinic from the primary Flagstaff Medical Center into an off-site, stand-alone, shell building on the East side of Flagstaff. With various services, including the clinic, therapy, audiology, administrative functions, and the future build-out of a fully designed urgent care, the campus creates a safe and healthy community-centered space that is both playful and inviting for patients, families, and staff. Utilizing a model of care that creates operational efficiencies and is guided by family-oriented and customer-focused design principles, the campus provides an empathetic, human-centric experience for all. The design process tapped into each user group's unique perspectives to create a campus that spoke to their distinct needs, challenges, and preferences. Art, materials, and colors throughout the hallways and waiting areas reference the history and geography of the area while also adding welcoming, attractive wayfinding elements for visitors. Where upgrades to the site's ADA access and the addition of an adjacent secure children's play area increased accessibility and function, services such as a therapy space offer a robust set of resources to comprehensively respond to the variety of patients and visitors.

For several years, healthcare facilities have renewed focus on preventative medicine—considering the whole patient and comprehensively evaluating the multiple physical and mental health factors that make up the story of our health and wellbeing. A core pillar of prevention, education is often the first step to taking action and preventing disease and illnesses. For FMC's Children's Health Clinic, these educational opportunities found new and engaging ways to reach the community. More than signage or follow up communication, the clinic has several services that promote preventative care, including FitKids, an indoor gym to teach children how to exercise and encourage movement properly, and a teaching kitchen where families can connect, learn about nutrition and try their hand at cooking a healthy meal with neighbors.

While the pandemic ushered in a virtual era of everything from remote work and learning to virtual doctor visits, campuses like FMC offer an opportunity to continue to serve the evolving needs of the community while adapting to changing best practices to keep the patients, staff, and visitors safe and healthy. Where telehealth and virtual options provide patients quick access to answers for a certain number of ailments or those without readily available care, healthcare spaces continue to find increasing value as places that are equipped for specialized care, ongoing engagement and connection between patients and healthcare providers, and a symbolic and actual commitment to total health. In more rural parts of the country, without these facilities or where facilities are lacking, residents are at a healthcare disadvantage as many cannot benefit from these connections; instead, they are dependent on long-distance travel to access basic or specialized services.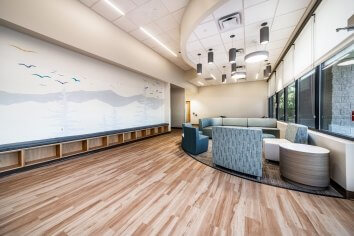 Recognizing and anticipating the role of the Children's Clinic in serving both adjacent and more remote communities, the design team incorporated elements that met the common challenges and pain points for patients of the campus. For instance, patients for the surrounding rural communities often depended on the facility to provide more than the typical 20-minute doctor's appointment. They would often schedule back-to-back visits in a single day and often for more than just one person in the family, which would mean they may spend the entire day at the clinic. A place to warm up food or have a little privacy to gather can add important moments of comfort and hospitality to an otherwise taxing experience.

The pandemic fundamentally changed us—how we think about health and wellbeing, how we approach public spaces, including healthcare facilities, our expectations, and the role of these facilities in promoting and protecting their community health. It has tested the capacity, flexibility, and agility of hospitals and healthcare campuses and challenged designers to think quickly and thoughtfully. It has also underscored the value of these places on community stability and the lives of people both near and far. More than healthcare institutions, these facilities have an opportunity to re-establish a feeling of safety and trust, a sense of refuge and comfort, and to care for the most human parts of us. As communities consider the evolution of their healthcare plans and their residents' wellbeing, these campuses are a critical partner in discovering a healthier, safer future for everyone.