News & Insights — Insights
A Look Back on Data Centers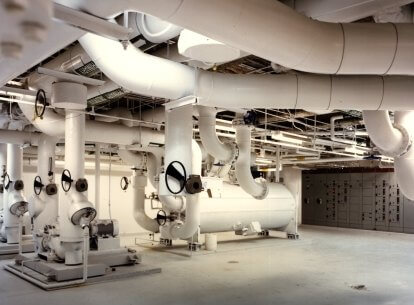 When Corgan designed their first data center for US Tel Communications Switching Center in 1979, data centers were far from what they are today. After 40 years as industry leaders, Corgan has completed more than 1,200 data center projects around the world. If you've used credit cards, traded stocks, flown on airlines, been insured, or accessed internet services through a major cloud provider, there's a pretty good chance you've done it through one of Corgan's data center clients.

Corgan has been leading innovation in this space since the inception of our data center services. At the start, architects were not generally thought of to lead data center projects since a majority of the costs went to MEP engineering systems. Corgan's architects took the initiative to learn more about those systems and to better understand and appreciate their importance, and in the process, developed and refined a unique approach to data center design project leadership and management.
A LOOK BACK
As pioneers of the industry, Corgan developed a more fully-integrated architectural and engineering design process that along with improving methodologies and communication tools, established holistic design solutions to drive the evolution of data centers.

In the 1980's Corgan was one of the first to place computer room air conditioners in hallways or gallery surroundings. The practice was later adopted by the industry to cool data centers for the next 20 years and may still be used in smaller facilities today. Corgan also developed special structural and composite roof system designs for data centers in Texas and other locations to address the extremely high wind velocities of tornadoes and hurricanes. Damage from weather events can be critical. Wind speed, debris, and storm coverage are all risk factors for the data center. Corgan continually evaluates these threats and potential responses to provide effective solutions in order to keep these structures up and running.
HIGHLIGHTS
Design of over 23 million square feet of data hall and 6.3+ gigawatts of critical load

Designed the first greenfield LEED Gold data center

Designed the largest greenfield LEED Platinum data center

Implemented new technologies across the industry such as oil immersion systems, fuel cells, and large-scale solar farms
WHAT'S AHEAD
There is continuous pressure for increased efficiency in the use of resources including power, water, physical space, land, and maintenance. This is a trend that will never end. New factors may arise from new developments like the Internet of Things, everyday robotics, sensors, proximity, and speed issues, but the idea remains the same, we will always need to implement the best and fastest technology in our work. There will be continuous baby steps toward efficiency and reliability.

One driver that has escalated in importance is the need to press even harder on the building and infrastructure system efficiencies to reduce the initial capital spend, long-term capital spend, and the annual operating cost of the data center. With technology evolving, the infrastructure will have a hard time keeping up.
…AND BEYOND
As Corgan begins our next 40 years, we look forward to maintaining our place at the forefront of innovation and technology and anticipating the challenges of the ever-changing data center industry.

Change may be constant, but with the right people entrenched in this work, we know where it's going and how to best navigate it for ourselves and our clients.