Projects
Panola College, Michael Baker Library Addition and Renovation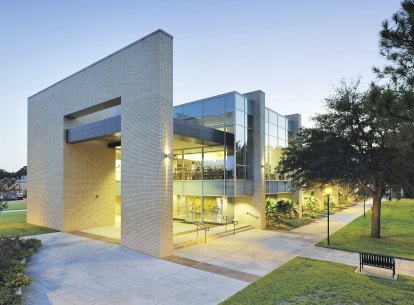 Project Stats
Client

Panola College

Size

31,927 SF

Awards

Architect Magazine Design for Decades

Market

Expertise
Rebranding a campus identity and centralizing a community icon.
Panola College Library is a 31,927-square-foot renovation and addition to an existing building. The Panola Library is the new heart of the campus and a flexible social space. The library includes a cafe, multi-functional conference rooms, four offices, two work rooms, six reading rooms, and a computer lab. The addition wraps around the existing building so that the existing library could continue operation during construction. The program incorporates a one-story gallery space that showcases students work and hosts community events.
The project was carefully orchestrated to allow the existing portion of the library to be in continuous operation during construction of the addition. The addition was designed to be constructed around the old building, carefully detailing the "seams" between the old building and the new construction. Corgan made the library seamless by creating slots or overlapping planes to avoid the patchwork effect of trying to match old materials. Diligent study and understanding of the existing building minimized unforeseen challenges. The new construction design by Corgan remedies any deficiencies the structure had previously.