Projects
Panola College, Health and Natural Sciences Building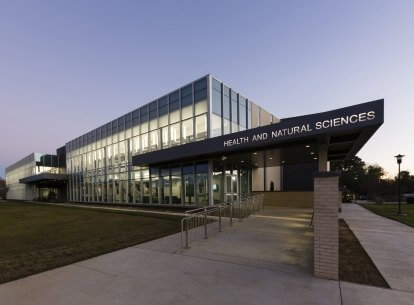 Project Stats
Client

Panola College

Size

65,000 SF 

Awards

American School & University Magazine, Architectural Portfolio: Outstanding Design: Post Secondary 

Market

Expertise
Hands-on simulations to mimic a workforce environment.
To support the college's increasing health professional enrollment in the fast-growing community of Panola County, the new Health and Natural Sciences Building was designed to consolidate programs and add more classroom space. Meeting the evolving needs of the college, the state-of-the-art facility provides hands-on learning through high-fidelity simulation for more realistic patient environments.
The theme "Everything is Connected" promotes the college's community-driven goals and is reflected in the overall building design. The U-shaped layout encourages engagement between instructors and students, creating optimal learning experiences custom tailored for each student. Laboratories and classroom spaces distributed throughout the building create cross-curricular opportunities for courses in anatomy, biology, physiology, microbiology, chemistry, and physical science. Six health science simulation laboratories within connected and shared instructional spaces provide students with "real-world" learning experiences.
To create a more real-life work environment, the design team recreated lab plans used for Parkland Hospital to help design the building's lab spaces. Designed to mimic a hospital environment, students are assigned scenario simulations that utilize the building's state-of-the-art technology and reinforce safety procedures. The new building serves as a campus precedent, keeping pace with the ever-changing educational needs of the growing health market.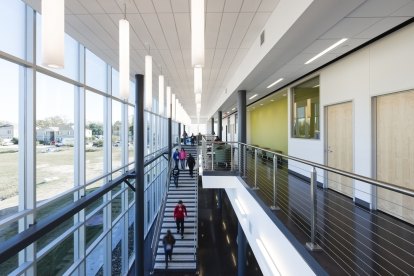 Natural Light
Specific attention was paid to optimizing the building's exterior, all-glass envelope, not only for aesthetic effect and energy performance, but to protect science rooms from damaging natural light.